(Heading home after a busy day on the branch, with Jeff Young at the throttle)
On Tuesday, my friend Jeff Young came over for an evening of fun and trains.
Jeff is a live steam enthusiast, with a lovely garden railway. He's well-known in the water boiling community, thanks in part to the column on live steam that he writes for Garden Railways magazine. He runs his garden railway in all sorts of weather – fair and foul: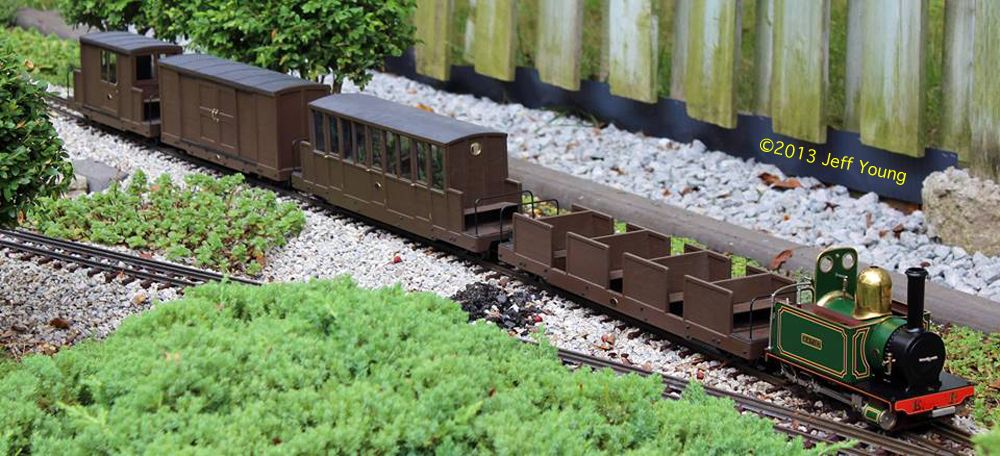 Jeff has been working in the garden since well before I met him. But at one time, way back when, he worked in the "indoor scales". Jeff admitted that it's been ages since he's participated in an operating session: It's not unheard of for live steam enthusiasts to hold such sessions, complete with car forwarding and dispatching systems. But it's rare. That said, one time when visiting for a non-rail activity Jeff mentioned he'd like to have a go on the Port Rowan branch, so I invited him over.
—
We had a great time, and Jeff needn't have worried about his operating chops. Apparently, operating a model railway is like riding a bike – once you master it, the skills are with you for a lifetime. Jeff took on the role of engineer and by the time we had checked the bill box at St. Williams and were ready to switch the team track spur, he was whistling and bell-ringing like a veteran.
Jeff was really impressed with the TouchCab app that converts an iPhone or iPod Touch into a Lenz DCC throttle. (Follow this link to read all of my posts on TouchCab.)
(Recently, I've been using TouchCab more and it's getting a lot of positive reviews from visitors. Not surprisingly, those who use Apple products elsewhere in their lives love it. But also, those who do not have a DCC system of their own tell me that they find the interface a lot more intuitive than a standard DCC throttle.)
—
Since I'm still testing the Sergent Engineering S scale couplers on my layout, I'd set up a freight extra with a fair bit of work to do. If the real branch had hosted as much traffic as we switched on Tuesday, it might still be in business today! As it was, we ended up with one car we couldn't position into its final spot in Port Rowan – so we left it on the run-around:

That's the only run-around in town, so the gondola will add an interesting complication to the next operating session. (And no, we could not leave it on the head of the team track: There's a sign just beyond the last boxcar in the above photo that prohibits this and we do play by the rules.)
Curiously, when pulling a tank car and placing a hopper car on the elevated spur in Port Rowan, engine 80 slipped its drivers and stalled on the incline. It's never done that. I'll have to investigate. Things to look at include:
1 – The drivers (slippery?)
2 – The track (slippery?)
3 – The pony truck and tender trucks (sticking wheel sets?)
4 – Other cars that were in the train (sticking wheel sets?)
The Sergent couplers continue to improve. We had a sticky coupler on my Milwaukee Road rib-side boxcar, which gave us some grief. I've made a note of it, although the problem may work itself out as the car gets switched more frequently. Other than that, uncoupling was faultless and the few missed couplings could be attributed to brakeman (Read: Me) error.
I'm now confident enough of the operating reliability of the Sergents that I will place a bulk order to do the rest of the fleet when they return to the market – hopefully later this summer. (Follow this link to read all of my posts on the Sergent couplers.)
And the couplers sure do look great. They're a nice complement to small rail and small wheel flanges:

All in all, a great evening running trains – and I'm pleased with how well the layout performed. Come back anytime, Jeff!
—
Before our operating session, I introduced Jeff to the wonders of Harbord House. Knowing that we share a love for beer, I'm surprised that in all the years I've known him I haven't taken Jeff there before.
Jeff and I had a great discussion about the live steam hobby – something that also stokes my coals, although my participation at steam-ups has plunged since starting this layout.
That said, I have some ideas to inject some enthusiasm into that aspect of my hobby and I discussed these with Jeff. Plans are afoot…