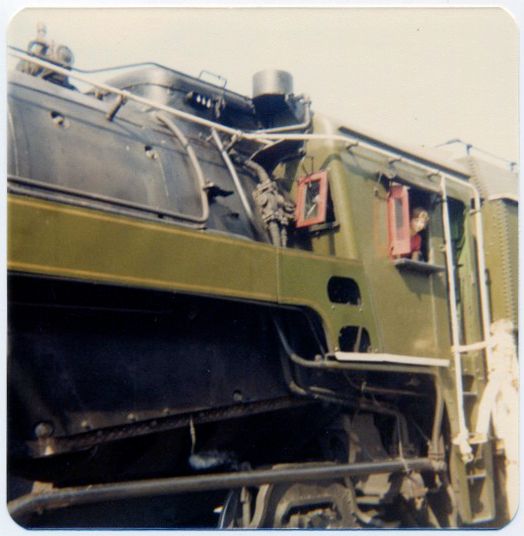 I was already a life-long railway enthusiast when my mother shot this photo of me in the cab of Canadian National Railways 4-8-2 6060 – taken during a steam excursion between Toronto and Niagara Falls*. (I can't remember the year – but it's sometime in the mid-1970s.)
But I'm pretty sure this was my first exposure to mainline steam. And I've been a fan of steam ever since.
Now, I'm not a snob about steam: I won't refer to diesels as "diseasels" and I have several examples in my collection. But I do enjoy the raw power of steam-powered prototypes and the physicality of model steam locomotives. (That's when the trouble started: Steam models have been problematic for me in the past, since their performance would range from finicky to cranky. Today's commercial models are much, much better – and the 1:64 models I run on Port Rowan, built by Simon Parent, are exquisite.)
In addition to the above photo, I have two more of 6060 – taken during a water stop in the Burlington/Hamilton area. (Railway water facilities were long gone so CNR 6060 was replenished by the local fire department, which parked a pumper truck on the roadway overhead and lowered a hose into the tank.)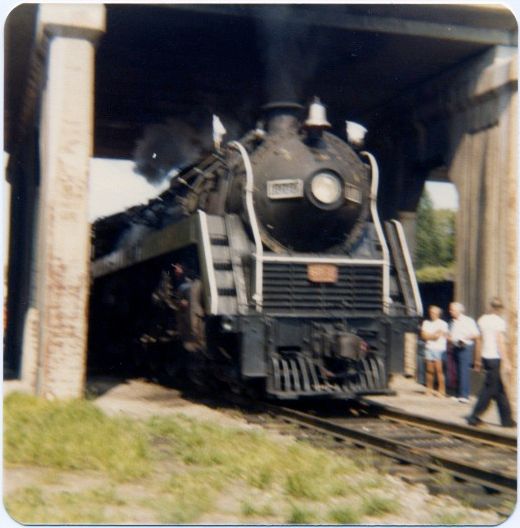 I wish I had more photos from this fan trip. And it's clear my mum was not a photographer. But I'm happy that I have these pictures. They help explain why I love steam, even though it had been retired from regular service for about a decade by the time I was born.
—
(*Slowly I turn…)