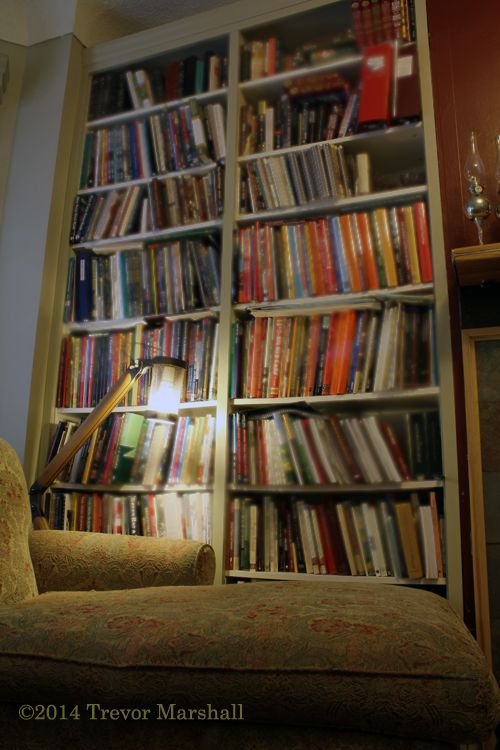 (About one-third of my railway resources, plus a comfortable place for study and contemplation)
Yesterday afternoon, my friend Chris Abbott dropped in for a visit. His timing was perfect as I was doing some prep on my S Scale Workshop modules ahead of a day in the TrainMasters TV studio this coming weekend, and the prep went a whole lot easier with a second set of hands on deck. Chris and I always have a good time too of course.
Rather than head to the layout room, we hit Harbord House for a meal and some Junction Craft Brewing Brakeman's Session Ale. Then we retired to what's known in my house as "The Burning Things Room" – thanks to the large working fireplace that anchors the space. (With temperatures soaring this week, a roaring fire was the last thing we would've wanted – but the name sticks year-round.)
There, we discussed a mutual friend who is currently trying to decide on a new prototype. He's looking for something manageable, given his busy life with other commitments – but also wants something off the beaten path and with modelling challenges that will make for a rewarding project. I won't delve into the choices we've been batting about – that's up to our mutual friend to decide and I'm sure that if he wants more input he'll post something to his own blog.
But the subject of picking a prototype raises a related issue for me – namely, the importance of research resources.
I get teased by Chris sometimes for starting sentences with the phrase, "I have a book…" ("You have a book?" he'll exclaim. "Really??") But I take the teasing in stride because Chris also recognizes the value of the printed page and having resources at one's fingertips.
Knowing of a great prototype is of little use to the modeller if there's no reliable way to find out more about it – either to confirm that it's a suitable subject for modelling (and provide more information to help do that) or to raise issues of concern with attempting to re-create reality in miniature.
In The Burning Things Room, the fireplace is flanked by floor-to-ceiling built-in bookcases. To the east side, those shelves are filled with some of my railway resources (at a guess, about one-third). More are loaded into other bookcases in this room and elsewhere in the house – but even so, many books don't yet have a home. They're piled on end tables (or, in some cases, under them), stacked on desks, or otherwise stored in a chaotic fashion. All I'm missing is the stuffed and mounted raven (and a few wrinkles) to assume the role of The Librarian:

It's safe to say that without my collection of railway books, I would not be modelling the layout that's the focus of this blog. It was between hardbound covers that I first discovered CNR moguls hauling a short mixed train along an overgrown main track with no tie plates – plus track maps for St. Williams and Port Rowan – that inspired me to pick up pencil, compass and graph paper. (And you know how that story is unfolding…)
When I'm searching for a prototype to model or a project to build – or simply an idea to share with others, in person or via my Achievable Layouts blog – these books are the first place I look. I'm pleased that – in a few cases, at least – I've been able to influence a modeller's decision to pursue a prototype that I think he or she would enjoy. And while I don't boast about it, I take satisfaction in the fact that there are a few very well-done and well-known layouts that are what they are in some small part because I suggested a book to their builders.
I can't emphasize enough the importance of a good library for any serious hobbyist. It's worth foregoing yet another locomotive or a couple more freight cars to buy a book – and worth exploring books that lie beyond the scope of one's personal railway modelling interests. I've learned a lot about railways and modelling them from books covering lines on other continents, let alone other prototypes or eras.
I love books and I've never, ever regretted a purchase.
(Great to see you, as always, Chris. Thanks for the help – and we'll look through more books next time, I hope!)