What a treat to finally meet Dominic Bourgeois at The North Shore Train Show this past weekend in Laval, Québec.
Domenic's is a name that should be familiar to readers of various hobby publications. I think I first came across Dominique's work in print in the June 1987 issue of Model Railroader. Domenic was modelling a freelanced version of the Central Vermont called The Vermont and New England in HO scale. I was impressed by how he thoughtfully followed the CV prototype while incorporating things he liked into his freelanced railway – notably, six-axle diesels, which the CV never rostered. Even the paint scheme was clever, and believable:
What was most remarkable was his feature was presented in MR's "Student Fare" (remember that?) – the space devoted to young hobbyists. His presentation was more impressive than many features written by adults and still stands, in my mind, as an example of the right way to approach proto-freelancing. In fact, several years later I had Dominic's VTNE firmly in mind when I proposed to a friend that he use the Canadian National diagonal stripes on a dark blue background to create a plausible subsidiary of the CNR.
Later, Domenic switched prototypes to the Delaware and Hudson (which of course did have six-axle diesels), and he abandoned the proto-freelance approach for pure prototype modelling. At the train show this past weekend, he had an entire town on display, including many scratch-built structures: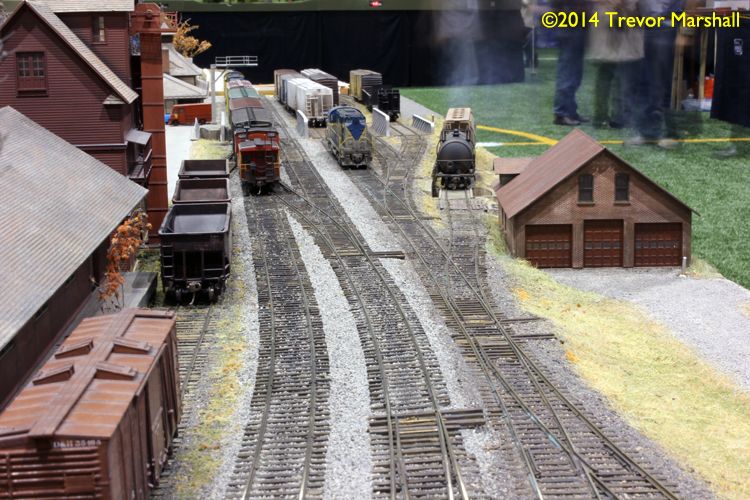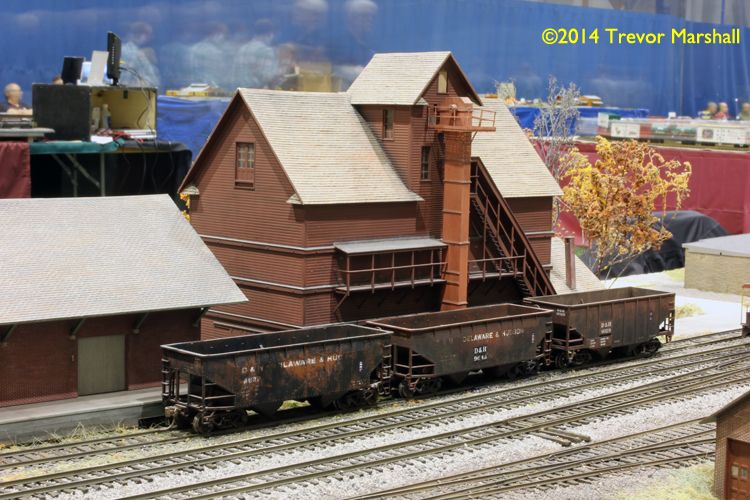 D&H fans have been the beneficiaries of this transition, as his search for information led to the publishing of a fantastic pair of books the Bridge Line railroad:

(This volume is now sold out at the publisher. But click on the cover to do a search on ABEbooks)

(This volume has just been released by the publisher. Click on the cover for more information)
It was great to finally connect with you, Dominic – I'm glad you could make it to the show!