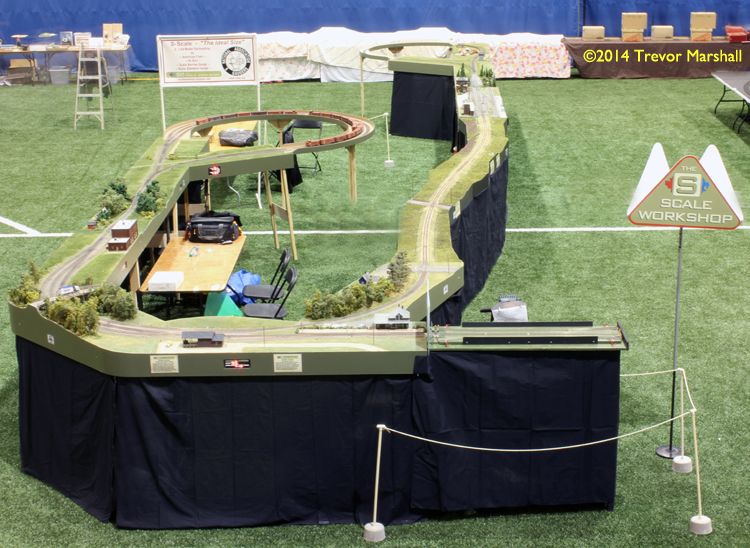 (The S Scale Workshop modular layout at The North Shore Train Show 2014)


(The plan for the set-up: Click on the image for a larger view)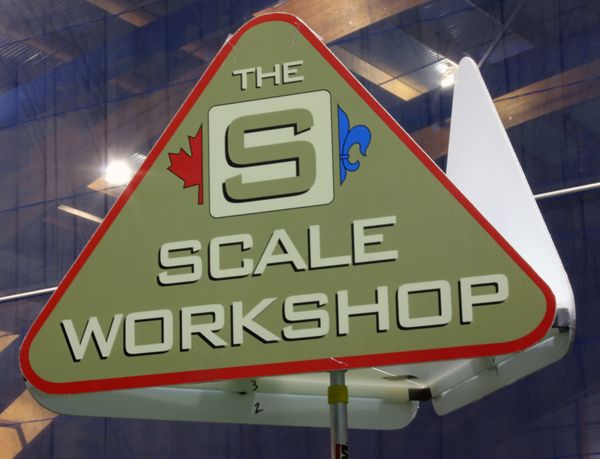 (We're always easy to find at a show. Click on the sign to visit the Workshop's blog)
As readers know, I joined a couple of other members of the S Scale Workshop – plus a few friends – to present our Free-mo style modular layout at The North Shore Train Show – this past weekend in Laval, Québec.

(Left to right: Andy Malette, Simon Parent, Claude Demers, me, Fredrick Adlhock, Brian Nicholson)
What a great time!
—
Our Québec member, Simon Parent, did most of the work to prepare for this show. In addition to being the Workshop's point of contact with the organizers, Simon also worked to finish two new reverse loops in time for the show. Unlike previous shows, which relied upon (short) train-length turntables, this time out we were able to turn, run and stage much longer trains – and everybody agreed it was wonderful to see these longer trains make their way around the layout.

(An eight-car train behind a 2-6-0 has just left Dunham Junction and is about to hit the crossing at Division Street)
Well done, Simon: Take a bow.
Simon also brought his excellent Dunham Junction module – four sections that comprise a freelanced junction laid out on a 180-degree curve. (That's the junction in the foreground of the lead photo, with a train-length turntable connected to the route at the right.) Here are a few more pictures of Simon's work: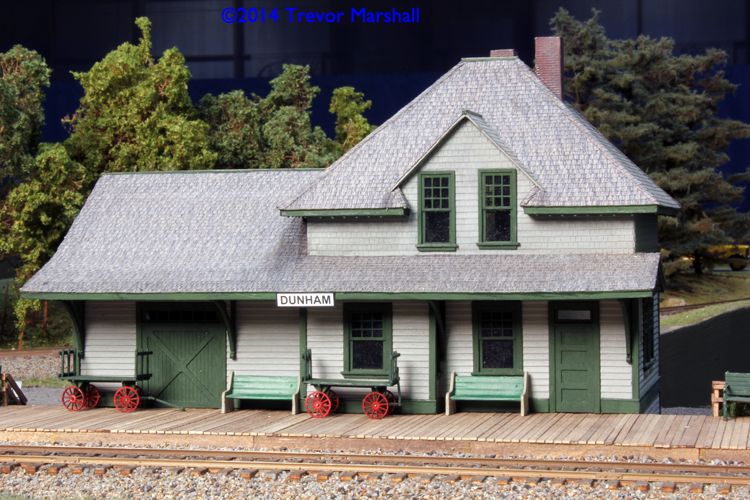 (The station at Dunham Junction)

(A road bridge over the three tracks at Dunham Junction)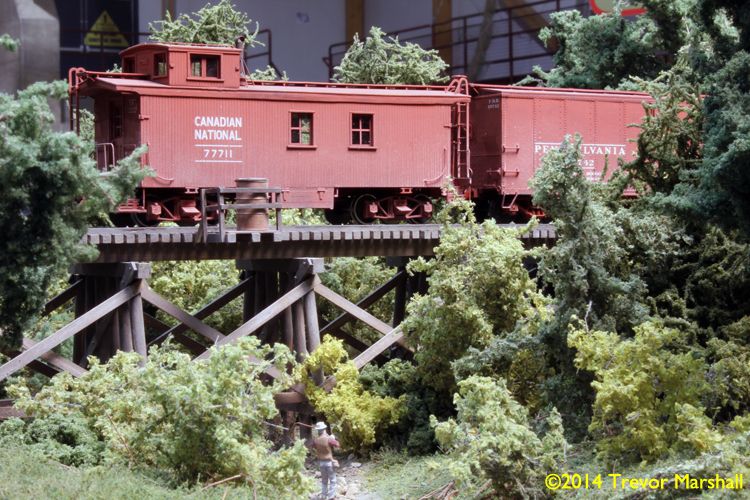 (Simon's river crossing module, which we placed between Dunham Junction and one staging loop)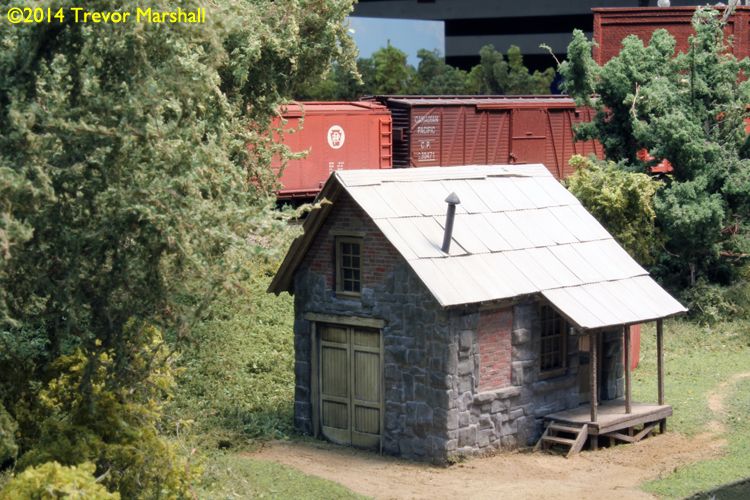 (Another view of the river crossing module)

(Montcalm Tower. The line to the upper left that runs past the handcar shed forms part of the return loop at this end of the layout, while the line that crosses it is also active, so we could attach a branch line to this scene if we so wished)

(Another view of Montcalm Tower: The connecting track across the back of this image completes the reverse loop)

(An example of Simon's exquisite track work)
In all, Simon contributed more than 50 feet of modules to our exhibit.
—
My two modules – Judge Farm and Division Street – were used to form the long S-curve up the right-hand side of the lead photo.
I've been working on these for the last three months or so, and documenting their progress for TrainMasters TV. I was pleased – and relieved! – at how well they performed on their first outing.
At 22 feet, this stretch of open country running was taken advantage of by many operators, who used the S curve to stretch out the slack. Everybody enjoyed hitting the Division Street crossing at speed – and even though I planned these two modules so they could be used separately, I suspect they'll often be located together at shows so we can do this.
There's still a fair bit of scenery to do on these modules, but I was able to use some of the time at the show to do a bit of planting – including the crop rows in this farm scene…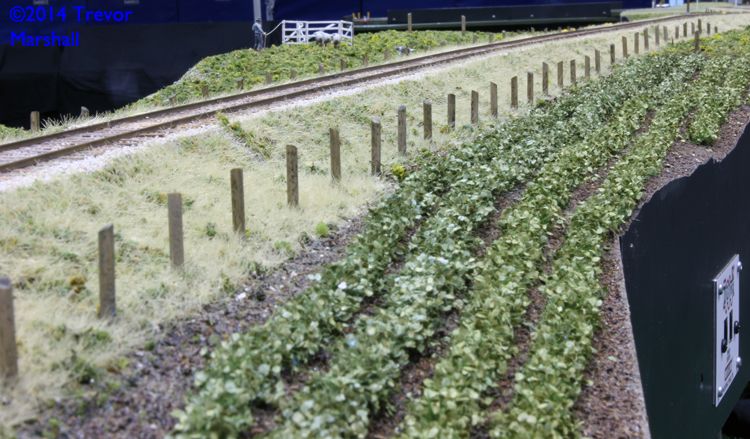 … and some weeds in the meadow:
It's a good start.
My vignettes around sheep herding were also well received. I was pleasantly surprised to have a few people more interested in stock dog trials than in the trains themselves, and had some great conversations about Border collies and other working dogs.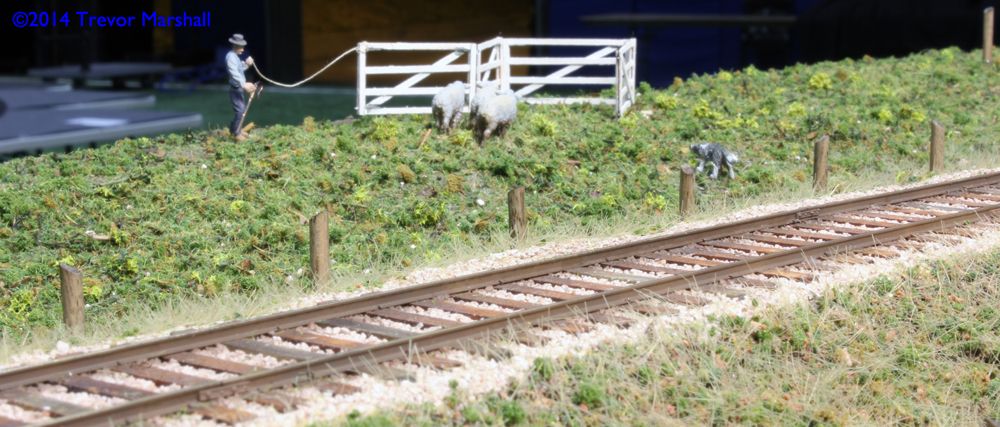 (This handler and his dog are about to make the pen. Click on the image to read more about this vignette)

(Further up the pasture, a small flock of sheep graze. Maybe they'll be used for a double-lift)
—
Andy Malette contributed his two-section brewery module. With spurs to both sides of the main, the brewery is always busy with lots of switching to perform and is a nice counterpoint to less busier modules built by other members of the Workshop: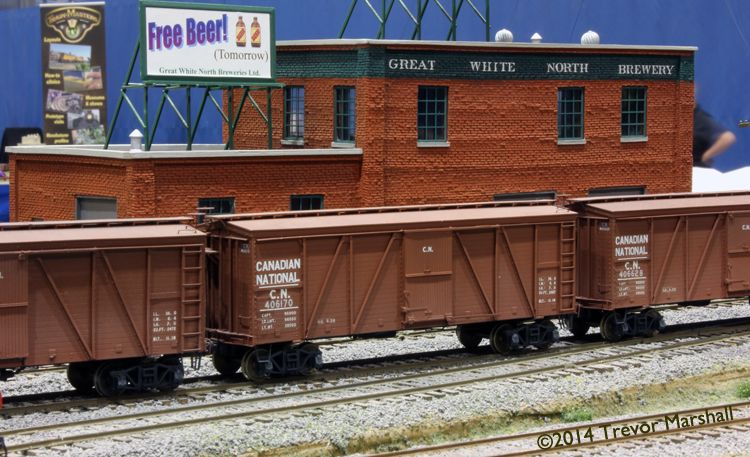 Andy also brought a second module that depicts a typical Ontario wetlands scene, complete with a massive stone fill to support the track through this area:
—
Simon, Andy and I were joined by friends Claude Demers, Fredrick Adlhock and Brian Nicholson. While they did not have modules, they were invaluable in helping us set up, run trains and tear down. We could not have done it without them! Thanks guys!
Our friend and fellow Workshop member Jim Martin also deserves special mention. He was unable to make this show, but he made sure we had the signs, a train turntable, and other materials that helped us look good. He even loaned Fredrick some S scale equipment to help populate the layout. Thanks, Jim!
—
Our home for the weekend was in a community centre/sports complex. We were on an indoor field, complete with artificial turf:
This was great on the legs and feet – much better than standing on concrete for two days. That said, we could've used some floor-tile-sized pieces of plywood to put under each module leg to prevent the legs from sinking into the floor! That played havoc with levelling the layout, not to mention keeping it level over the course of the exhibition. That said, we didn't run into any major problems with unwanted grades.
The organizers did a fine job of making us feel welcome, too. Unlike many shows I've attended, the organizers made the space available to us at noon on Friday for set-up, and brought in pizza and drinks for us around 3:00 pm. We were set up in plenty of time, and everything was tested and ready for the public the next day. Some of us even managed to get a good night's sleep before the show. Well done!
There were a number of other exhibitors at the show. I did not have a lot of time to wander the show and take photos, but here are a few to give you an idea of what others were presenting…

(Dominic Bourgeois had a lovely display of his HO scale Delaware and Hudson modelling. I've written about this elsewhere on my blog: Click on the image to read more)

(I had my first in-person experience of TGauge. At 1:450, it's about 1/10th the size of O scale. That's N scale track along the lower edge of the photo, and a Canadian $2 coin for size comparison. Damn but that's small! And yes, this train ran)

(At the other end of the hobby spectrum from the S Scale Workshop: A club from the Gatineau, Québec area brought a most amazing display of concentric loops in different scales, with trains chasing their tails all weekend. This was very entertaining for the kids – but it's also a good example of why I have sometimes written on this blog about the challenges faced by modellers at the craftsman end of the hobby in explaining what we do to the general public)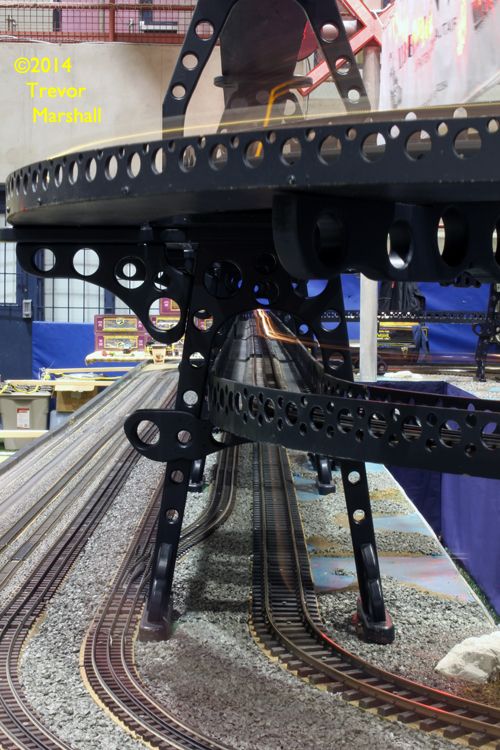 (This tower of trains was certainly a feat of engineering!)
—
Now that I have a couple of modules and I know that they work, I'm looking forward to more exhibition opportunities with the Workshop. And we did get a couple of invites to other shows – including a very tempting invite to exhibit at Exporail – Canada's national railway museum.
But for now, I'm looking forward to taking a day or two to do nothing train-related, except possibly cleaning up my work room and layout space. And then I'm looking forward to getting back to work on the Port Rowan branch. I have a number of projects on the go and will of course share my progress here as they develop.
Thanks again to my fellow members of the Workshop, to the show organizers, and to those who attended and stopped to say hello. As I said earlier: What a great time!