When I was a kid in the late 1970s – say, 11 or so – my parents decided to move from Toronto to St. Catharines. Being 11, I was devastated: I was going to miss my friends and I was going to miss my regular visits to George's Trains on Mt. Pleasant Road.
But in the back of my Model Railroader magazine, there was an ad for a shop in St. Catharines called Niagara Central Hobbies. One day, we met with the real estate agent over sundaes at Diana Sweets* on St. Paul Street. This was the same street on which Niagara Central Hobbies was located, and I asked the agent how far it was from the restaurant. "Only a few blocks." "Can I go, mum?" "Sure – but be back here in an hour."
I ran east – almost the entire length of St. Paul Street, it turns out. And discovered a magical hobby shop. In the end, I think my parents and the agent had to pick me up at the hobby shop. There was just so much to see. With apologies to George's, this was way better. Maybe St. Catharines would be okay after all…
—
Niagara Central Hobbies was the place where I graduated from playing with trains to a railway modeller. The owner, Ray Lounsbury, was a bit gruff but also incredibly patient with a young kid who had a ton of questions. His wife, Marie, was always wonderful, and the staff were always friendly and knowledgeable.
What's more, the product selection was fantastic. This is where I first encountered brass locomotives… and narrow gauge… and garden scales like LGB. It's where I first learned about photo-etched detail parts for military models, and brass fittings for boat models – both of which I've incorporated into my projects in the railway modelling hobby. And it was always a terrific place to discover long out-of-production kits (often at original retail prices) and long out-of-print magazines. Spread across two adjacent storefronts and covering two floors, Niagara Central Hobbies offered more than 7,000 sq. ft. of trains, planes, armour, crafts, and other hobby supplies.
Niagara Central was close enough to my high school that I would drop in often at lunch hours to pick up magazines. Ray had a clever marketing trick: If you "subscribed" to a magazine, he would set aside each issue as it came in, and he would discount the tax from the cover price. It was a loss-leader, but it guaranteed that regular customers would drop in a couple of times per month – and nobody ever left the store with just their magazines.
I moved away from St. Catharines in the late 1980s to go to university. But every time I went back, I'd make sure to stop at the hobby shop. It's been a few years since my last visit, but yesterday my wife and I felt like a drive to the Niagara Peninsula and since we were going to hit the excellent St. Catharines farmer's market I decided to drop in. I had a shopping list, of course.
And while I knew that it would have to happen sometime, I still wasn't prepared for this: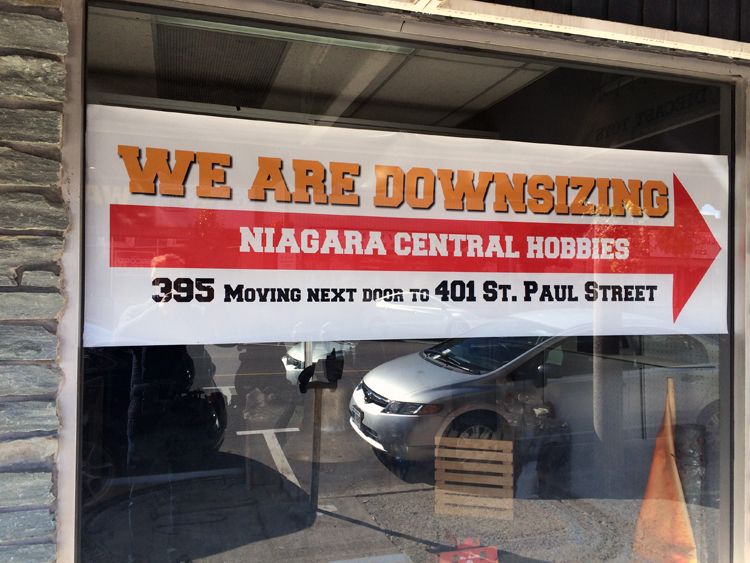 (Sign in the window of the left-hand side of the store. This is where I first encountered Niagara Central Hobbies. Years later, the Lounsburys would buy the adjacent building to the right. The hobby shop has now been consolidated here – but the train and plastic modelling departments have suffered as a result)

(Still in the front window of the old store – left side of the lead photo – passers-by could activate this LGB train by touching a brass hand-print mounted to the inside of the window glass. It was there the very first day I visited, as a kid. And as I have dozens of times in the past, I put my hand to the glass yesterday – and it still works)

(The old store, stripped and available for lease)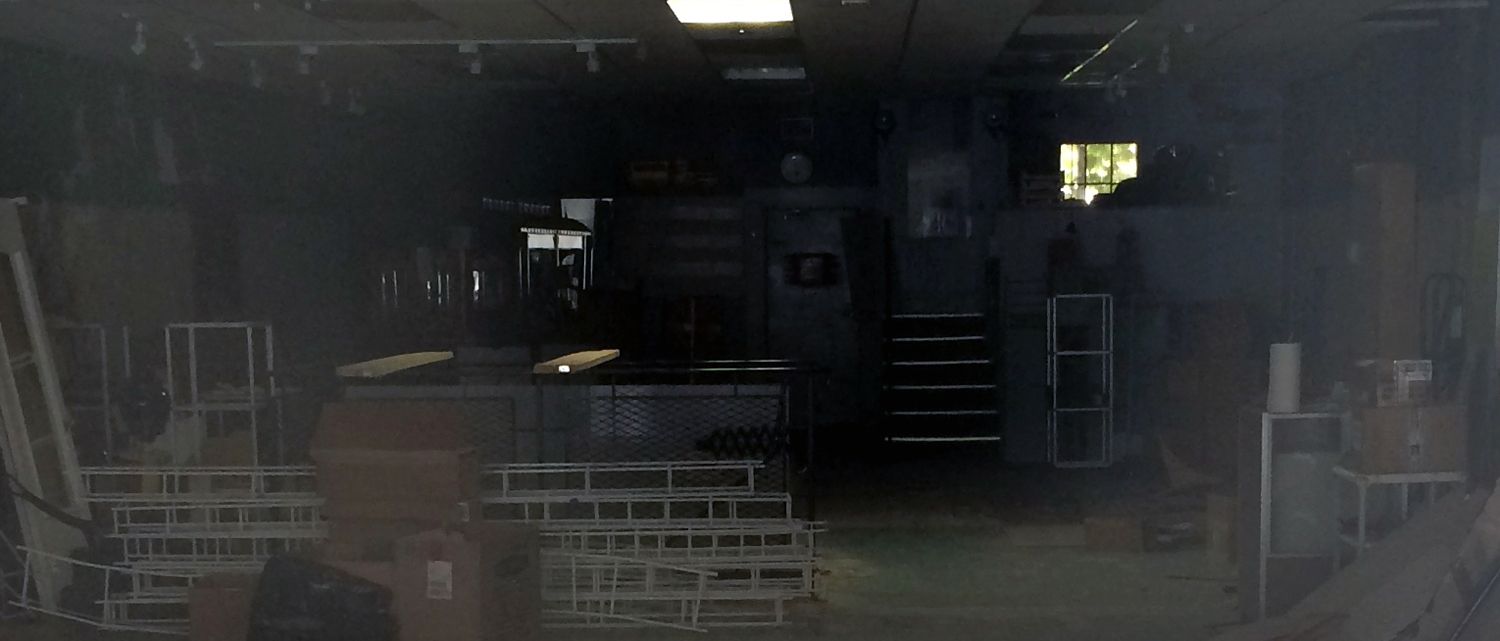 (A close-up from the previous photo, focused on the train department near the back of the store. The image below is labelled with key features that every visitor will remember)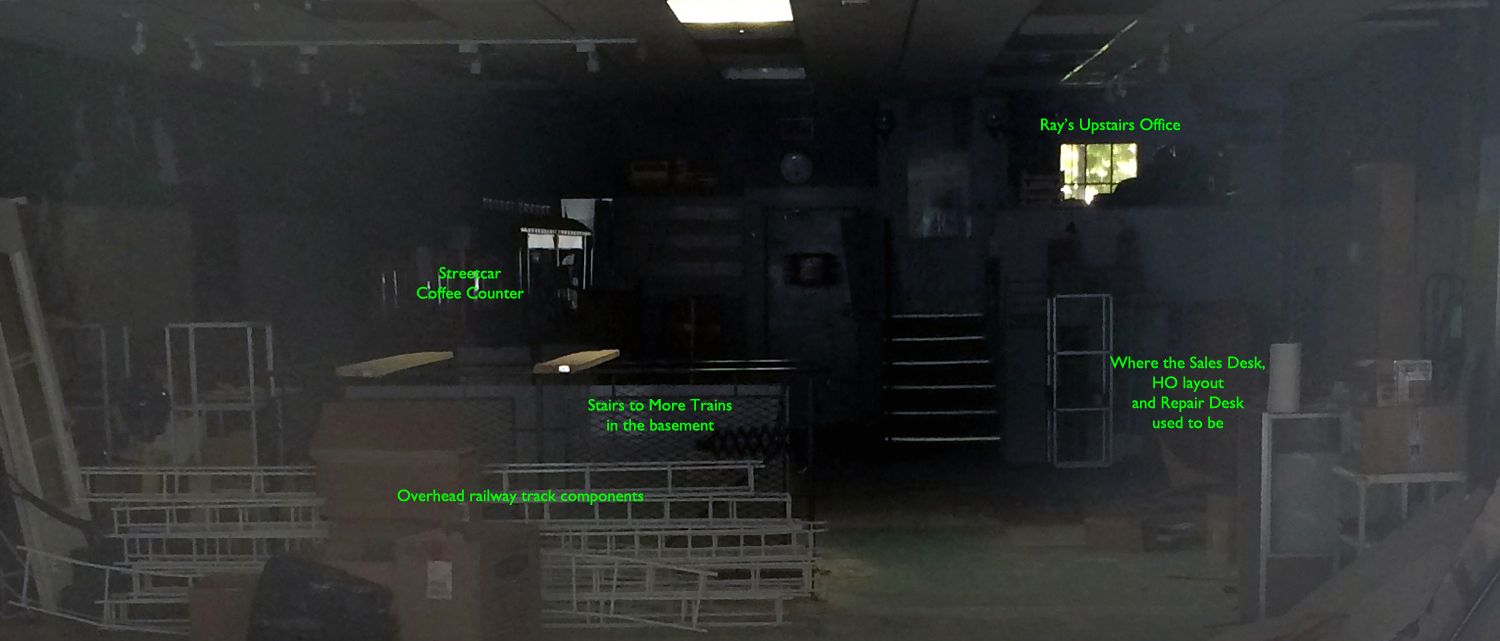 (The back entrance – used by those in the know)
I'm part of the problem, I know: I've been drawn to, and working in, niche scale/gauge combinations for years now and my focus has been on prototype modelling, so my contribution to the health of hobby shops is minimal. I buy CA, styrene, and the occasional package of scenic material from hobby shops. Sometimes, I'll grab a book or DVD. But for specialty items (and in 1:64, almost everything is "Specialty"), I'm buying direct from manufacturers more often than not. Or, I'm scratch-building what I need.
I'm fortunate to have two decent hobby shops within striking distance of home: George's Trains is still around (although in Markham – not downtown), while The Credit Valley Railway Company is in Mississauga. In fact, since I failed to find what I wanted at Niagara Central I stopped at CVRCo on the way home to pick up some things I needed (and some things I did not).
I'm not posting this to blame the new owners for the downsizing (Ray retired a few years ago) – but as a reminder of yet another way in which the Internet has changed the hobby.
For some hobby shops, the web has been a tremendous opportunity. Those who found a specialty (for example, Colorado narrow gauge, or live steam, or books) and embraced the Internet have been growing and prospering. But for many hobby shops, it has been devastating.
Obviously, Niagara Central is one of those that could not compete. The hobby shop still exists, but most of its smaller space is dedicated to art and craft supplies. The train and model department is a fraction of its former self and that's only going to get worse as more hobbyists discover that one of the greatest stores of its time has faded into the shadows. I walked out yesterday, sad and empty-handed – and I doubt I'll be back. Again, it's not entirely the hobby shop's fault: It's just the way it is.
I'm sure that new hobbyists will continue to find information and inspiration – sometimes, at the few hobby shops that remain, but more often online. For me, though, I have to thank Ray and Marie and the staff at Niagara Central Hobbies for the wonderful inspiration and help over so many years. I'm still in this hobby – and will be for my lifetime – in large part because of you.
—
(*Diana Sweets is also long gone – closed in 1996 – except that it isn't. Furnishings from this downtown St. Catharines institution were saved and are on display in a Harley-Davidson dealership in Niagara On The Lake)