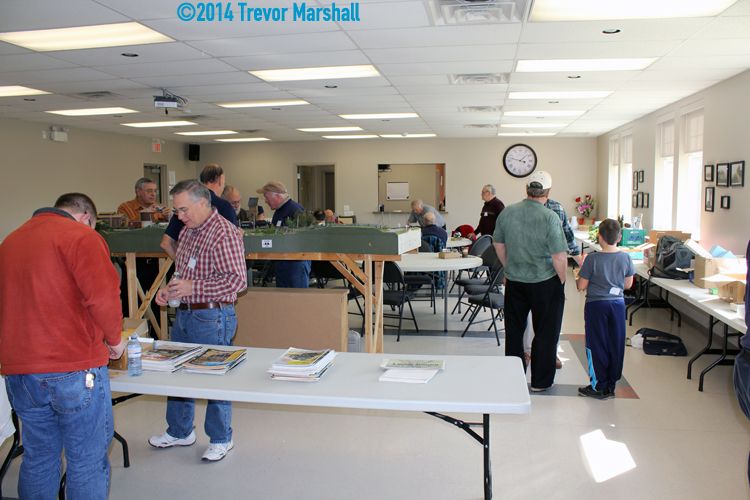 For the past several years, my friend Jim Martin has invited a couple dozen fellow S scale enthusiasts to a low-key gathering at a community centre in Lowbanks, Ontario – just down the road from where Jim lives along the north shore of Lake Erie.
It's an opportunity to swap tales, show off one's work and do a bit of horse trading. And when the Autumn weather is glorious – as it was for yesterday's event – one enjoys a beautiful drive in the country, too!
My friend Chris Abbott and I truck-pooled to the Social, which attracts people from across our province as well as from the state of New York. It was great to see many familiar faces – including several people who follow this blog (thank you!) – and find out what others are up to in 1:64.
I exhibited the CNR snow plow that I built from a vintage Ambroid kit (and blogged about extensively) earlier this year: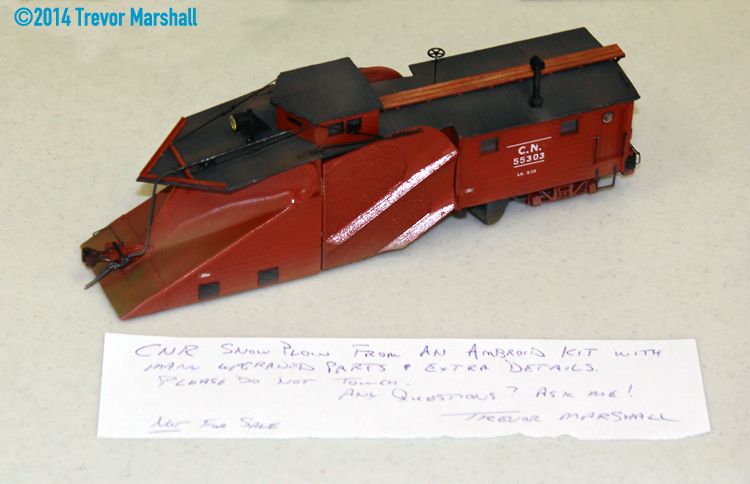 —
Chris brought along some plans for an S scale wooden interurban box motor he's working on. As the photo shows, it's inspired by a line car on the Pacific Electric (although he's also drawing on the construction of a similar car in O scale by the late Bob Hegge, which was documented in an issue of Model Railroader back in the 1980s):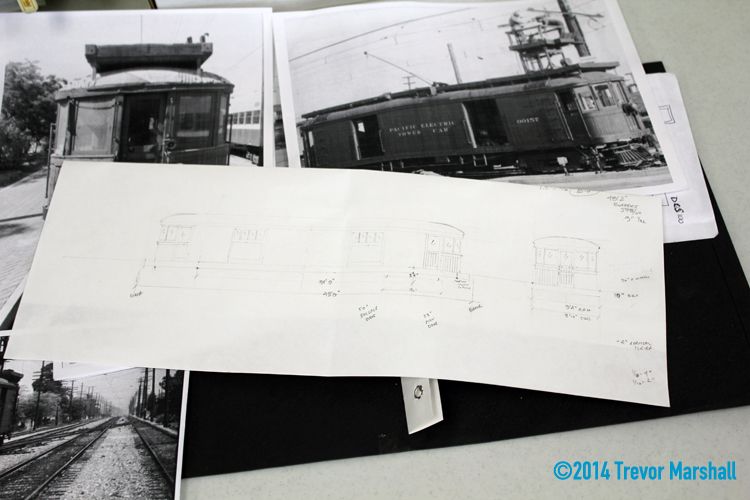 I'm looking forward to seeing this project develop. While I've never had a traction layout, I'm drawn to interurbans and it's only a matter of time before I build something under wire. And I'd be in good company: S scale traction enthusiast and manufacturer William Flatt was at yesterday's meet, with his exquisite CNR/Niagara St. Catharines and Toronto Number 17 on display: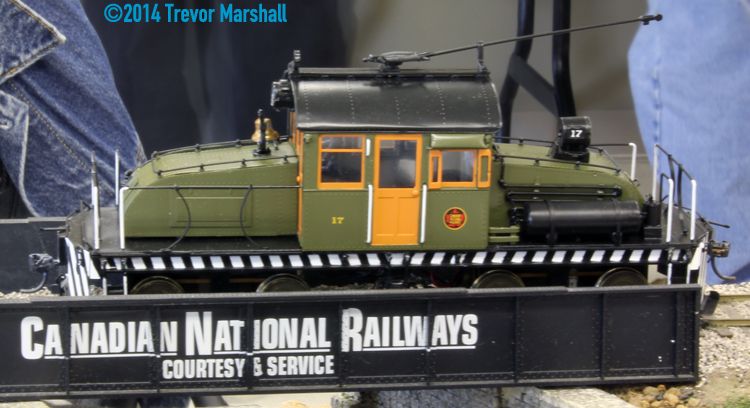 A couple of years ago, I acquired one of William's kits for a steeple cab in S, and yesterday my friend David Clubine had an S scale Cannonball Car Shops kit for a Baldwin class D freight motor…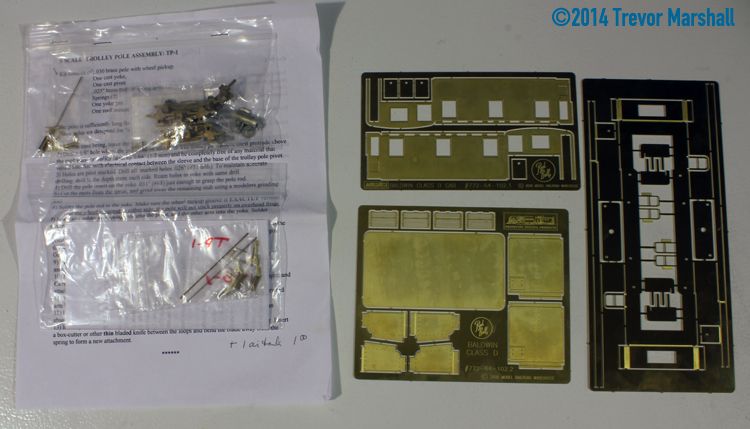 … and I spotted it first, so now I have two kits for traction freight haulers in 1:64. David's kit included a number of additional details required to complete it, so I'm very pleased.
I have more to do on Port Rowan, but at some point I'll build these two kits. Hopefully, by that point, Chris will have the start on a layout on which I can run them.
(I bought something else from David, too – but I'll detail that in a subsequent post)
—
Several years ago, I helped Chris build a module for use with the S Scale Workshop – a fairly simple design with a single spur leading to a beat-loader:
Well, to make a long story short, Chris passed the module on to David, and eventually it ended up with Paul Raham. Paul had a number of buildings for a branch line engine terminal, so he added track and structures and brought his version of the module to this year's Social. It's very different now:

(Our host Jim (tan shirt – left) gives the redeveloped module a close inspection…)

(Jim gave into his inner Imp and added a couple of stickers to the end of Paul's module. I don't think anybody was fooled…)
—
There were many other interesting things to see yesterday…
David brought along a Pacific Rail Shops boxcar fitted with aftermarket photo-etched details for bracket grabs: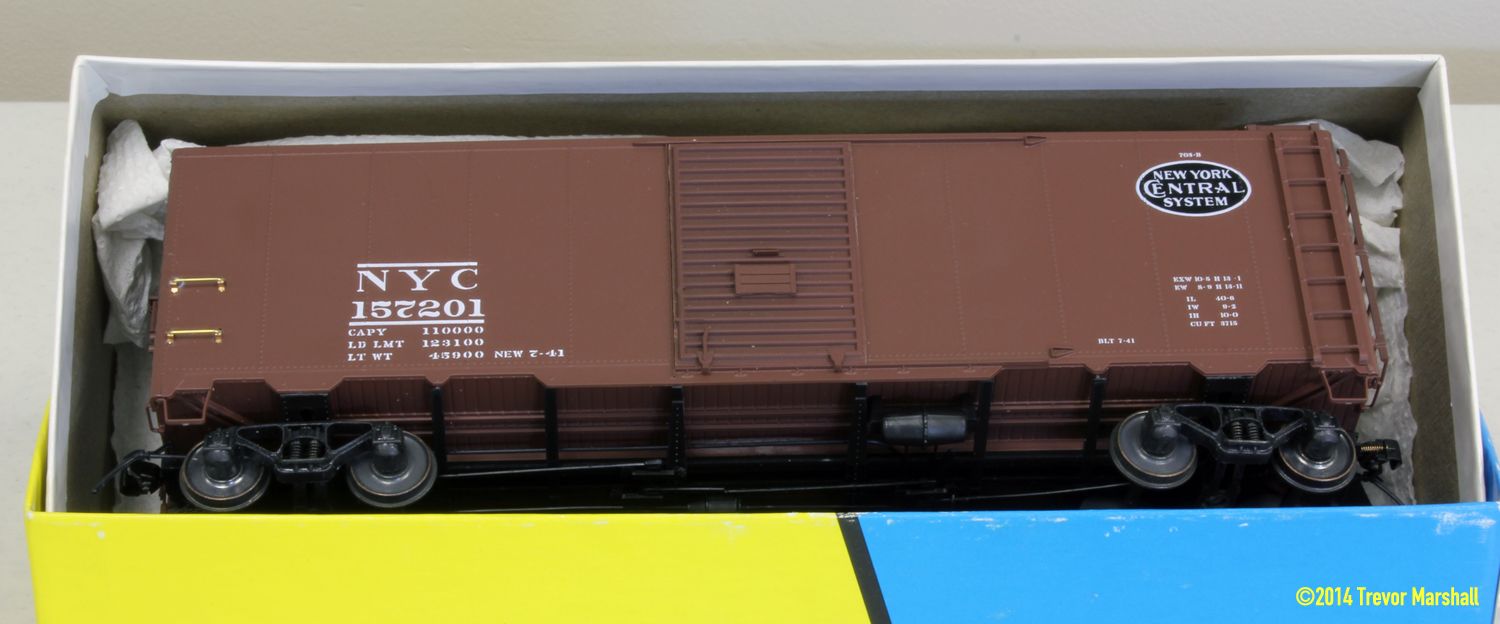 These are produced by my friend Pierre Oliver at Yarmouth Model Works, and include a drilling template. They're not listed on his website, but you can contact him for information. They're sure to stand up better than the kit's plastic bracket grabs, which break if you look at them wrong…
Andy Malette showed the latest version of the CNR eight-hatch refrigerator car that he sells through MLW Services. This one is equipped with express trucks and other appliances that allow it to operate in passenger service:
Andy had just finished spraying the green sides for his display sample and I look forward to seeing the finished model. It'll be a handsome addition to a train.
I'm really looking forward to one of Andy's future projects:
This car is the missing piece of the puzzle for me – the last piece of passenger equipment I need to accurately model the six-per-week mixed train to Port Rowan after CNR lost the mail contract. Andy does point out that he's put the planned release date on a sticker so it can be easily changed – either to move the project forward or delay it. If you have any interest in this car in 1:64, do let Andy know. Maybe we can get him to move the project up the to-do list!

(Andy and Jim: They're either comparing notes on an exhibit or debating the qualities of their favourite adult beverages)
—
The Social is always a low-key affair although Jim did do a quick clinic on a terrain forming experiment he tried on a friend's layout:
Sale tables included some interesting examples of the variety of product available in S. This vintage Locomotive Workshop kit for a GE 44-Tonner was tempting…
… as were these bare-metal components for 1:64 trucks…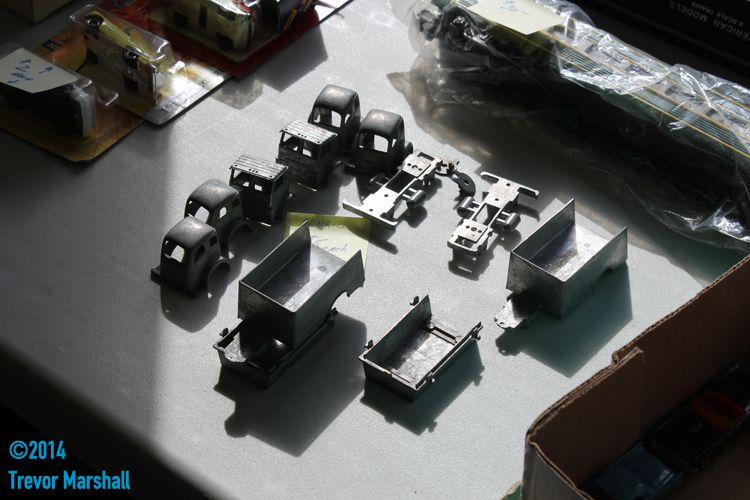 … but I managed to resist.
A tree display was worth a pause for inspection, and I loved how the afternoon sun through the window hit the display:
All in all, a great day! Chris and I had much to talk about afterwards, over a pint and nibblies at The Black Bull.
Thanks again to Jim for organizing this great annual event – and thanks to Chris for sharing the ride. I'm looking forward to the next one!