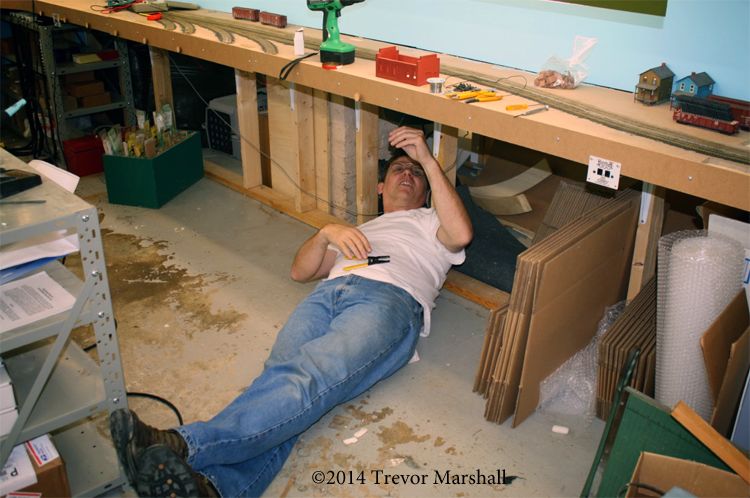 (Pierre gets down to business…)
I visited my friend Pierre Oliver on Friday to help him solve an annoying problem.
Like me, Pierre uses the excellent Bullfrog mechanical switch machine from Fast Tracks to bend the iron on his HO scale Wabash Railroad – and mechanically, they've been brilliant for him. But if there's a weakness to these machines, it's the micro-switch used to switch frog polarity. Pierre and I both live in older houses that move a fair bit with changes in heat and humidity, and Pierre was finding that the switches were drifting out of alignment. When they went too far out of alignment, they would no longer switch polarity. Worse than a dead frog, they'd actually create a short when a locomotive bridged the gap onto the isolated frog.
Pierre had done a fair bit of adjusting on these, but eventually he decided to bite the bullet and upgrade the layout with the Frog Juicer from Tam Valley Depot. (I've been using these from the start on my layout, but of course I only needed two of the six-turnout Hex Frog Juicers, plus a Dual Frog Juicer for the Port Rowan turntable.)
Our mission on Friday was to retrofit Pierre's entire, dual-level layout.
Given the size of the task, it was fairly straight forward. Pierre and I work really well together on stuff like this and by the time we had retrofitted the six turnouts in the first town, we had developed a rhythm: He mounted the board while I located, cut and stripped the frog wires. I then soldered new wires to the frog wires underneath the benchwork while Pierre connected the board to the track power bus. We then threaded the frog wires through the benchwork to the board. Easy peasy. It took a few hours, but we got it done and things ran much better after that.
As Pierre writes on his blog, Frog Juicers for a large layout represent a sizeable cash outlay. He compares it to using a sledgehammer to crack an egg.
But here's the thing: Pierre's operating crew drives a long way to run trains on the Wabash. For me, it's a 2.5 hour trip on the highway – each way. And Pierre, being the guy that he is, wants the layout to run well for his guests. (I do too, which is why I've been debating the merits of various coupler choices in recent posts.) So for him, the peace of mind that comes from knowing there will be no electrical surprises at the frogs during operating sessions is worth the investment. I agree, 100 percent! It was the right thing to do.
The wiring job gave us plenty of time to discuss other matters, too. For example, Pierre is an accomplished custom-builder and painter, so I picked his brain about painting my CNR gas electric – mostly to confirm that my approach is the correct one. And we played about with the new (HO scale) GMD-1 from Rapido Trains: Pierre and I each have one of these, and they're simply stunning. They run, and sound, as good as they look, too.
And Pierre's better half provided a terrific lunch – the highlight of which, for me, was home-made pickled onions that would absolutely kill in a Gibson. Yum!
Having been chased away from the soldering iron a few times, one of the household cats ended up supervising our work from the comfort of a box of Super Trees. Click on the image, below, to read more about the work session on Pierre's blog – and enjoy if you visit!