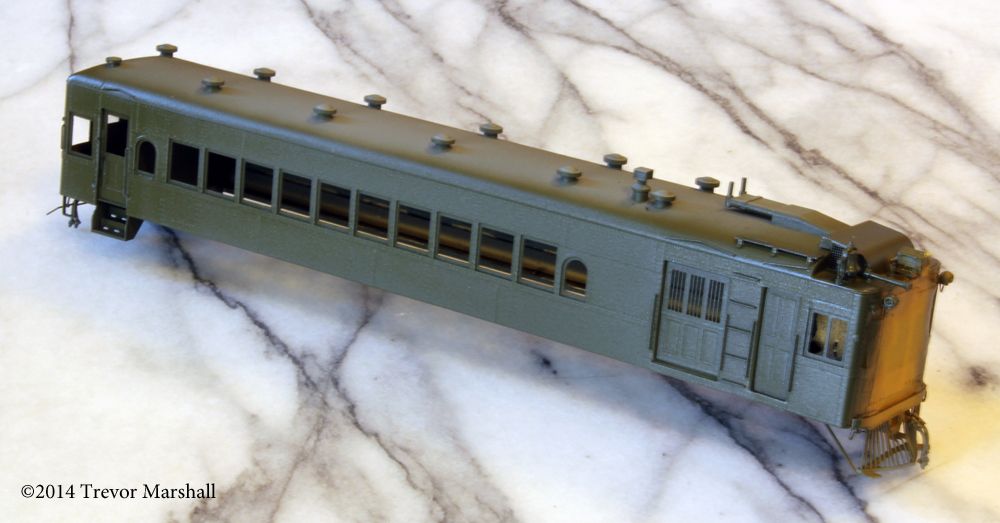 While visiting Pierre Oliver on Friday, we discussed painting procedures for my CNR doodlebug. I've painted my share of locomotives and rolling stock in the past – but not nearly as much as Pierre has, so I was sure he'd have some suggestions for masking to keep subsequent colours from spoiling the yellow nose on the unit.
Pierre recommended Tamiya masking tape, which is not as aggressive as regular masking tape yet still sticks well to paint. On the way home from a sheep herding lesson yesterday, I picked up some Tamiya tape at Wheels and Wings, a Toronto hobby shop that caters to those who model armour, aircraft, automobiles, ships and so on.
As the lead photo shows, I masked the nose and then sprayed the body with CNR green. I've also attended to some items that'll help make the model nicer.
I drilled, then cut, a hole in the floor of the rear vestibule, so that I have a way to get glass into the windows of this compartment:
I've done a test on the layout, and this hole pretty much disappears from view when the unit is on the rails. That said, I'll glue a rectangle of black styrene over the hole when I'm finished with the glass. If I use Krystal Klear to mount it, it'll be easy to remove if I need access and the glue won't fog the glass the way that CA will.
I also applied some Squadron Putty to the back of the headlight to fill the hole where the LED wires pass into the casting:
During testing of the LED headlight, I noticed that light was escaping through the back of the casting. The putty takes care of that, and will disappear when the roof is painted black. That's the next job – as soon as the green paint dries.
Painting, for me, is an exercise in patience. I'm not good – not at all – at waiting for paint to dry. But I'm getting better. Once again, the hobby is teaching me something…
—
It was my first visit to Wings and Wheels – and, well, "Wow!" Talk about a well-stocked hobby shop. I went for tape, but also came out with several neat little tools from companies whose line cards rarely appear in shops that serve the railway hobby crowd. I'll definitely plan another trip when I don't have a muddy, tired but still impatient Border Collie waiting in the truck!