On Sunday, Chris Abbott and I headed east to an annual train show in Whitby. Rather than provide a straight-up report on the layouts and vendors, I thought I'd showcase some of the memorable things I saw there.
—
First, there was a vendor with a great collection of books, time tables and other railroadania – including a selection of switch keys: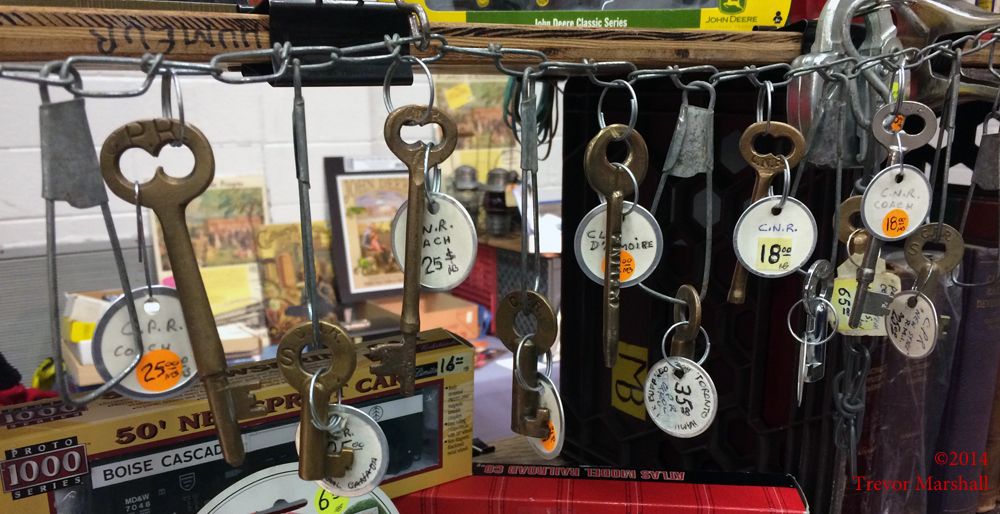 —
Next up, something for which I'd seen advertisements many years ago in British hobby magazines – but that I'd never seen in person:
If I recall correctly, this was an analogue command control system. It sure looks like it came from the 1970s, doesn't it? Like something one would see on the bridge of Star Trek's Enterprise or an Eagle from Space:1999. The vendor actually had three units for sale as a set – another master control unit like this one, plus an add-on throttle.
—
Finally, we'll end with an oddity, spotted by Chris. These two pictures show the two sides of a cast iron pull toy. Note the road name under the windows: What the heck happened here?
—
Chris and I pondered this puzzler – and much more, besides – for the rest of the afternoon.
Our route home included a stop at Hornet Hobbies and Wheels and Wings. Both are shops that cater to the armour modeller – but with many useful tools and materials to inspire railway modelling enthusiasts.
We finished the day with a late lunch at the Louis Cifer Brew Works – a great pub recently opened… and owned by Chris' cousin. Ontario's craft brewing scene just gets better and better!