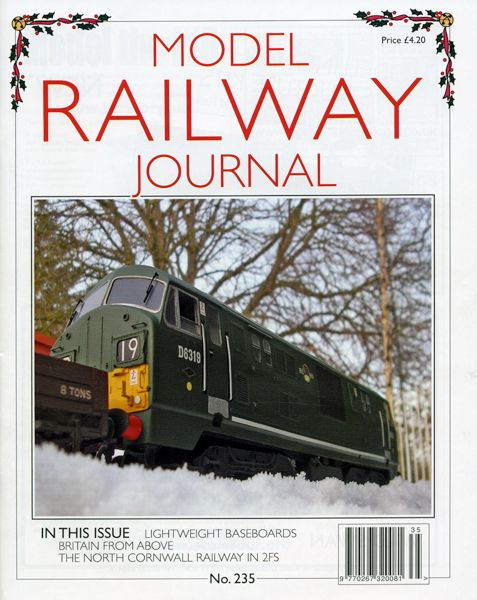 That's the title of the editorial in the current issue of the excellent UK publication, Model Railway Journal. The piece, by guest editor Jerry Clifford, is a beautifully written argument in favour of learning to build from scratch.
Clifford writes, in part:
"There is no doubt that the quality and range of what is available from the trade far outstrips that of just a few years ago. However, the downside of this undoubted bounty of goodies is a creeping sameness in what can be seen in the model press and at exhibitions. Too often, I would suggest, projects are planned and executed with what is available being the driving force rather than the other way round, the quality and quantity of RTR in particular, becoming a straightjacket rather than a liberator."
Very, very well said – and something I often remark upon after visiting public train shows here in Canada. I see layouts with different names on the fascia – but a sameness in the modelling: The same out-of-the-box locomotives and rolling stock running past kit-built or ready-made stations, industries and other structures, and often past ready-to-plant scenery items such as trees, fences and so on.
This is not to say that RTR is killing the hobby – or that it has no place on an advanced modeller's layout. Used with restraint, RTR can give a modeller time to focus on items that help make the layout unique. To provide two examples from my own experience:
I have several RTR models on my own layout, and many of them receive little beyond a coat of weathering and new wheel sets before being pressed into service. This frees up time to build more accurate models of more important rolling stock, such as my CNR baggage-mail car and my CNR boxcars.

I have a couple of houses built from laser-cut kits. However, structures from kits are definitely in the minority on my layout – and those I've used are heavily modified. Using kits as starting points for a couple of off-line structures freed up time that I could devote to scratch-building more important structures, such as the St. Williams depot, the tobacco kilns, and the Port Rowan section house.
The important point is, I temper the presence of RTR equipment and kit-built structures on my layout with a healthy dose of scratch-built structures and other details, plus heavily-modified kits for signature pieces of equipment. In the end, most of the elements that comprise my layout will be unique.
It helps that I'm working in S scale, for a couple of reasons. First, 1:64 is a larger scale so it's easier to scratch build stuff. Second, when compared to more popular scales 1:64 is poorly supported with "ready to use" product – so one is forced to create more from basic materials. (Some may see that as a disadvantage – but I find it liberating.)
—
If you're already scratch-building for your layout, then this post isn't really directed at you. Well done – and keep it up!
—
However, if you're new to the hobby and relying mostly on "ready to use" rolling stock, structures and other items, consider how you can kit bash some of them to make them unique – or consider how you can improve your layout with some scratch-built pieces. There are plenty of resources to help you succeed, if you're willing to give it a try.
Before you know it, you'll be what Clifford describes as "an original thinker who tends to give convention a cheery wave as he passes it by on the other side of the street."