(That's a lot of wire. But the decoder swap was simple – thanks to industry-standard JST connectors. The decoder ("1") will fit in the tender at "A" while the keep-alive module ("2") will reside at "B")
As mentioned in my previous post, I've upgraded the entire steam fleet to TCS WOWSound decoders.
Friend and fellow S scale enthusiast Simon Parent convinced me to give them a try, and I had him install decoders in my 10-wheelers while he was working on them. I decided I would do my three moguls, which are easier than the 10-wheelers because the decoders reside in the tenders.
While there was nothing wrong with the Tsunami decoders, it made sense to standardize the fleet for several reasons, including:
1. I've already noted I was having issues with the chuff synchronization cams on the 10-wheelers. It was only a matter of time before the same issues appeared with the 2-6-0s.

2. The WOWSound decoders have a different mix of available sounds – including 15 bells and 40 whistles. I worried that the difference in audio quality and sound mix would be really apparent between decoders from two different manufacturers.

3. The WOWSound decoders also won me over for including a cylinder drain valve sound, which can be set to run automatically or manually controlled. Having spent a little bit of time in the cab of a steam locomotive (very little, but still…) I understand the importance of opening these valves to clear condensation from the cylinders. It's a sound I wanted on my layout.
The fist job was to get inside the tender and remove the Tsunami.
While this looks like a spaghetti bowl of wiring, it's actually fairly easy to trace and the use of JST 9-pin connectors on both the Tsunami and the WOWSound decoders means I could simply unplug one and plug in the other.
Well, almost. I did have to make three solder connections: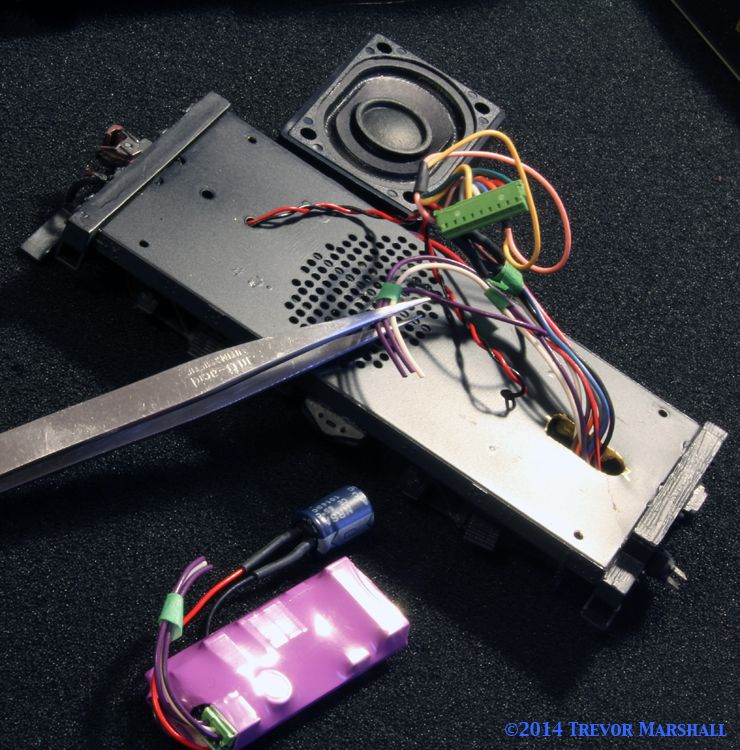 (Tsunami unplugged: The green rectangle near the speaker is the JST 9-pin connector)
The two purple wires are for the speakers, while the pale tan wire is the lead to the chuff cam. Even though I planned to use the electronic chuff synch, I decided I would wire up the cam anyway. It's there, so why not? Three solder joints and three pieces of heat shrink tubing was all it took. The flux bottle sure came in handy.
Rewiring each locomotive took about 15 minutes. Most of that time was spent disassembling the tender and putting it back together again afterwards.
—
Programming each locomotive took considerably longer. It was straight-forward, but there were a lot of variables to consider and values to assign. I'm keen to try out the TCS braking system, which is more sophisticated than the Tsunami brake, so I've set acceleration (CV3) to 50 and deceleration (CV4) to 150. That sounds like a lot – and locomotives will drift for some time after the throttle is closed – but I've also capped the top speed on each locomotive with a custom speed table that top out at 55. We shouldn't get into too much trouble. If we do, there's always the throttle's "Big Red Button".
With more available, user-controllable sounds, I have remapped the functions on the throttles, too. Here's my list:
FO(F) = headlight/generator
FO(R) = tender light/generator
FO(F)/FO(R) = number boards/generator
F1 = Bell
F2 = Whistle (long)
F3 = Whistle (short)
F4 = Blower (to be run when locomotive is stopped)
F5 = Cylinder drain valves
F6 = Brake Release
F7 = Brake Set
F8 = Injectors
F9 = Blowdown (but I may substitute something else)
F10 = Water Fill
F11 = Whistle Select (A WOWSound feature, but I may substitute something else)
F12 = Mute
(This function map will make sense to those of you with DCC systems, and I'm including the information here for my own, future, reference too)
I'm sure every layout owner will set up functions in their own preferred way, and my list may change as I operate the layout more. But this is a good place to start.
—
While writing this post, it occurred to me that I would have to modify some of the special instructions in my Employee Time Table. I use this document to convey several useful bits of information, including the location of various functions on a throttle. So I've now updated that document (and added a "revision" note to ensure operators are always using the current version).
Click on the image, below, to read about the Employee Time Table.
With the decoders installed and programmed – and paperwork suitably updated – I'm ready to run some trains!