(Extra 1532 West at St. Williams :: On the prototype, this train would be headed East)
I used the above photo to illustrate a previous post, which prompted regular reader (and St. Williams resident) Monte Reeves to ask…
Isn't your train eastbound as the station was on north side of track? Shouldn't it be Extra 1531 East?
That's an astute observation, Monte – and very few people would pick up on that. Well spotted.
But no – this train is headed west because of some artistic licence on my part.
When designing the layout, I realized that if I built St. Williams correctly, the station would be located between the track and the layout fascia. Viewers would look at the station from the rear.
Normally, I would've been fine with that. But here's the problem: I have only ever seen one photo of the St. Williams station as it appeared in the era I model, and that photo was taken from trackside: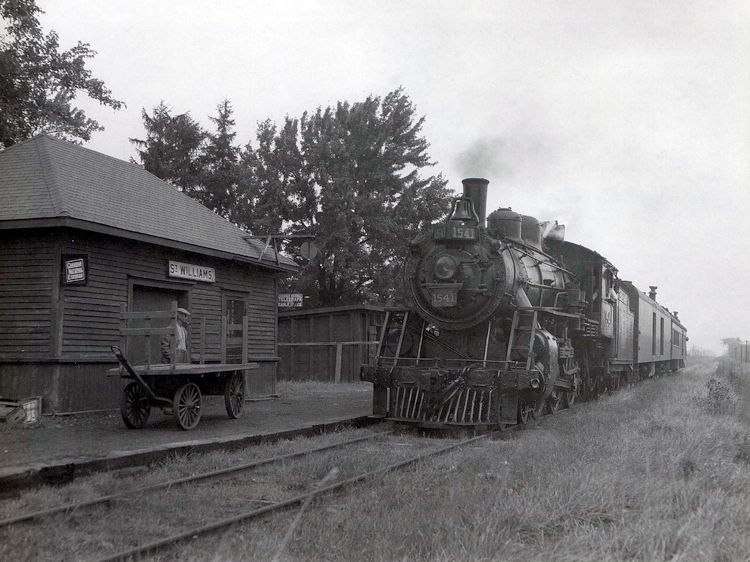 (I like this scene as rendered on my layout and I'm not willing to lose it…)
And isn't this photo is a great one? I think so. It shows the Mixed Train to Port Rowan (M233) arriving at the station, with the station agent on the platform and a baggage cart ready to receive LCL and express. It includes the station signboard… the Canadian National Express and CN Telegraph signs… and the roof-mounted train order signal.
There's so much information conveyed to the viewer in this photo that I wanted to replicate it on the layout – and the only way to do the modelled station justice was to rotate the town 180 degrees so that the station front faces the aisle.
(There's a practical consideration, too: I had no photo of the back of the station – but if I built it this way, it wouldn't matter. In fact, the model has a blank wall at the rear.)
These are the sorts of decisions one must make when designing a prototype-based layout. And I'm happy with the decision. While I've written previously about rethinking St. Williams to make it more prototypical, I'm not willing to lose this strong connection between modelled scene and the prototype photo that inspired it.
Compasses must be adjusted accordingly…