It was a beautiful day yesterday – cold but dry and sunny – so what better way to spend it than on a mini layout tour?
My friends David Woodhead and David Reilly dropped in to see my layout. It's been a few months while since David Woodhead last visited, and more than a year since David Reilly was here, so there was a lot of new stuff for both of them to see.
We ran a few trains and discussed various aspects of the layout – including my newly-installed TCS WOWSound decoders and how I build my trees. Somehow, two hours flew past.
I'm always interested in what others see in my layout, and Woodhead and Reilly both brought their cameras. Here are some of the shots they took: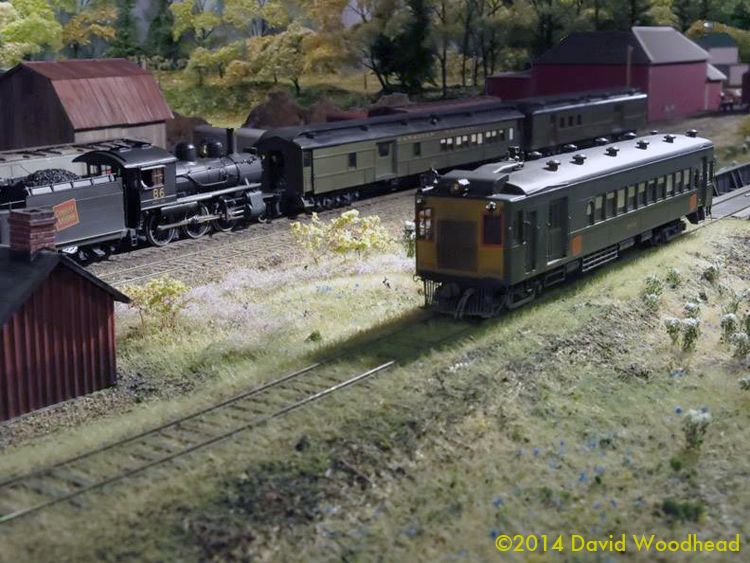 (A busy afternoon at Port Rowan. The doodlebug was a fantrip special. David digitally added some trees from elsewhere on the layout into the background here – what a pretty neat effect! It gives me some idea of what I hope this area will look like. I'll need to twist up a lot more tree armatures…)

(Speaking of trees, this is an interesting shot that has nothing to do with trains. It's one I've never thought of taking but I really like how it turned out.)

(M238 leaves Port Rowan. I like taking photos on this curve, too…)

(A freight extra crosses the Stone Church Road bridge.)

(The doodlebug at the steel deck girder bridge in the Lynn Valley. I'm pleased that others are taking advantage of these little vantage points, which I worked into the scenery as a reward for careful viewing.)
After running trains on Port Rowan, the three of us retired to Harbord House for a late brunch (the pub does some great variants on Eggs Benedict) and pints. And then – since David Woodhead lives just a few blocks from me – we finished the day at his place to run some trains on his On3 Madoc and North Hastings Railroad.
All in all, a great day: Thanks guys! We need to do this more often…