Well…
Back in early November, I visited Pierre Oliver and together we installed Frog Juicers for every switch on his double-decked HO scale Wabash Railroad.
So what are they now doing in a box, along with all the Bullfrog switch machines? And why does Pierre have so many shelf brackets?
Regular readers know the answer. But in case you missed it, Pierre called me shortly after that session and said, "You and I have to stop working on the layout, because every time we make progress the prospect of a move rears up!"
And sure enough, Pierre and his wife are planning to move. This time, they actually found a new house – so Wabash 1.0's days were numbered.
Over the past couple of weeks, Pierre has been packing up rolling stock, structures and other details. The layout looked pretty barren yesterday, when Chris Abbott and I made one final visit to Wabash country:

(Delhi, Ontario on the lower level, while the flex track in the upper level staging yard – representing points east of Jarvis – has been salvaged)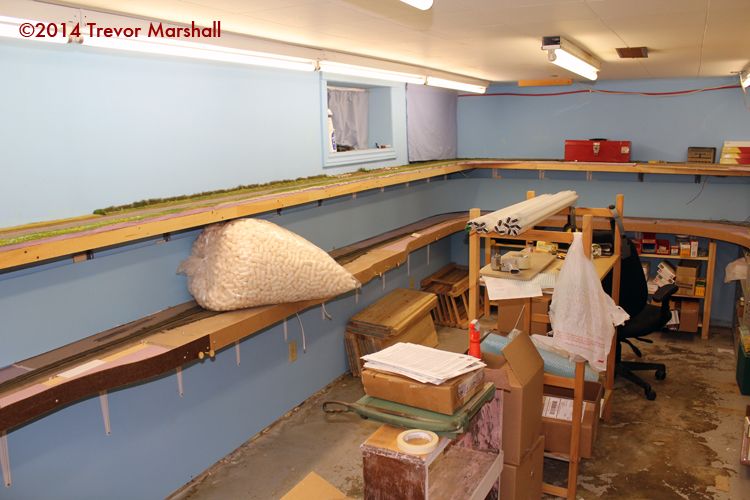 (Courtland, Ontario lies under a big bag o' packing peanuts)

(Simcoe, Ontario at upper left – Renton at upper right. Aylmer is below Renton, while the lower – west-end – staging is under Simcoe)
We didn't arrive empty-handed, however: Chris and I were on deck to help Pierre tear out the layout and stack it in the driveway, ready to be binned.

(Nice helix – although a choke point for operations: We'll try to design around it for Wabash 2.0)

(Pierre watches from safety as Chris bites into the helix)
The tear-out went surprisingly quickly. Perhaps it was the excellent lunch provided by Pierre's wife – including awesome home-pickled onions – but the afternoon went even quicker than the morning. Chris tackled the task with grim determination, as demonstrated here:

(You can also watch this directly on YouTube, where you may be able to enjoy it in larger formats)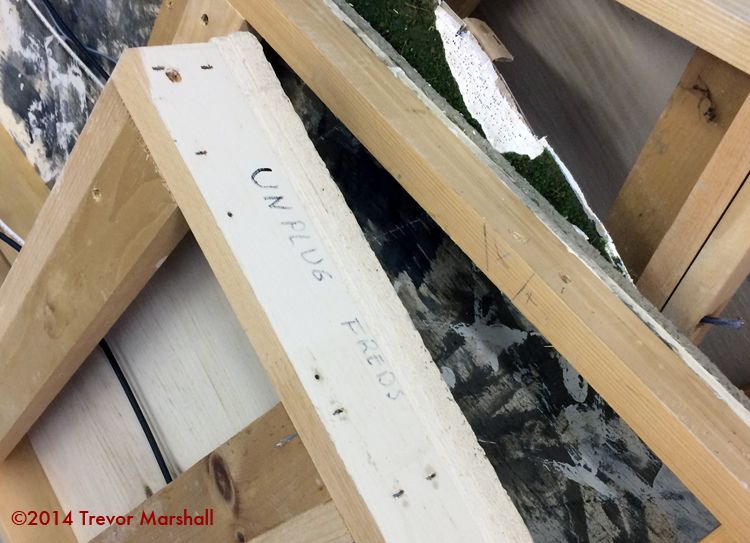 (I don't think the Freds care anymore whether they're unplugged)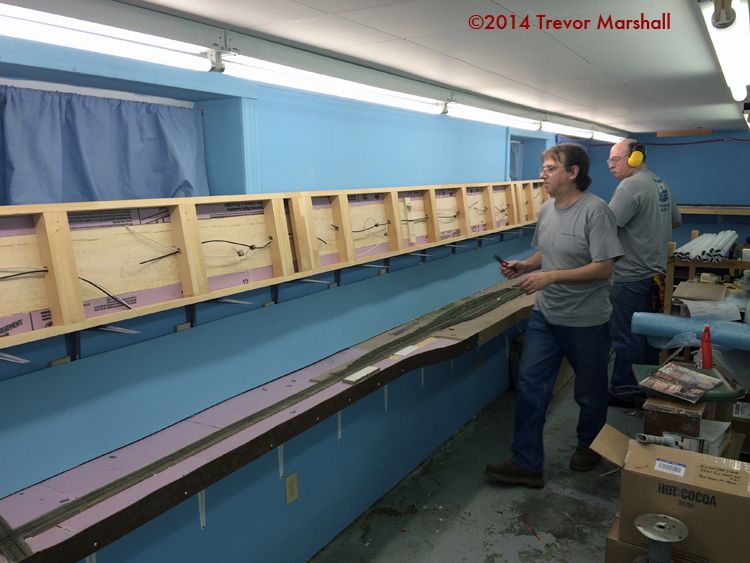 (The mainline east of Jarvis, tilted up and ready for sectioning. Pierre moves to cut wires to mark where he'd like the saw cuts. Courtland cowers below: its time will come)

(And there goes Cortland! Delhi to the right)
In the end, it took just five hours – including a stop for lunch – to remove the layout: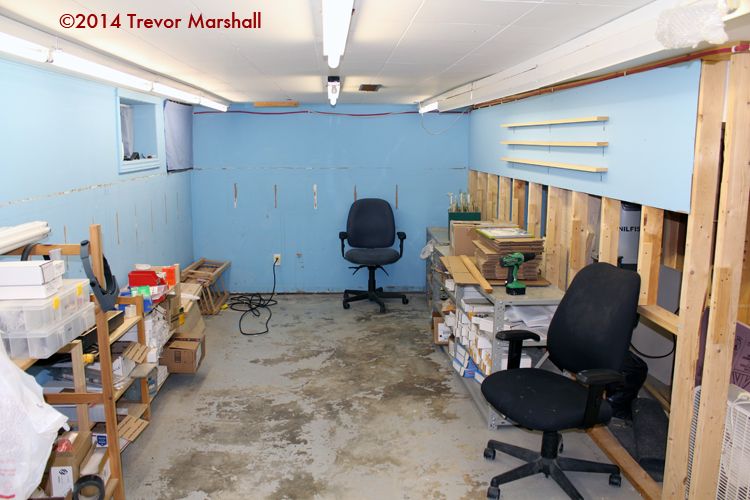 (The Courtland / Delhi side of the basement)

(The Simcoe / Renton / Aylmer side of the basement)

(Ready for the bin, which arrives Monday)
Fortunately, it takes roughly the same amount of time to build the basic benchwork for a new layout – as demonstrated when Pierre visited my house a couple of years ago to perform his Benchwork in a Day trick.
While it's always sad to see a layout go, we're looking forward to designing and building a bigger, and better, Wabash 2.0.
As Pierre would say, "It's all good!"