(Click on the image for a larger view)
Over the past couple of weeks I decided to finish the trees that form the backdrop to the trains in St. Williams. In the above photo, the two boxcars are on the team track while the locomotive at left is on the mainline. The layout makes a 90-degree bend here – not a feature on the prototype – but the trees help to visually soften this. I will further enhance this area with bushes and other undergrowth, but for now the trees make a huge difference and I'm pleased with the change in the layout's overall appearance.
(With the trees in place, I really notice that my coal shed is still a mock-up. I have a kit in hand for that structure – time to get started on it, I guess!)
I'm especially happy with the small cluster of trees in the foreground at left, which effectively divide the St. Williams run-around into two scenes. Here, CNR 86 enters the "team track" scene heading westbound:
And here, the CNR 15815 leaves the team track scene as it heads eastbound:
Note how the foreground trees (at right in the above photo) effectively obscure the grain storage building. One has to get right into the scene before it is revealed: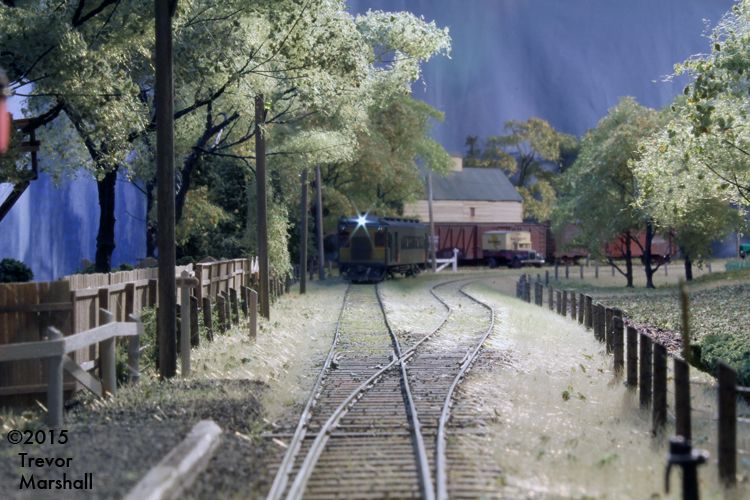 While planting the tree armatures the other day, I realized that some of them were too close together. As I adjusted the spacing, I ended up with a spare armature. Since it was a fairly small specimen, I decided it would look nice behind the garage of the house on Charlotteville Street in St. Williams. It now helps frame the depot when viewing the scene from the west:
I note in the above photo that the trees behind the depot represent some of my earlier efforts. They don't look as nice as my more recent trees, so I'll have to improve their canopies with better leaf material.
There's always something to do… and always opportunities to make things better!