Last night was an important night for me and my hobby. That's because my friend Simon Parent was in town for work – which gave him his first chance to see my layout.
Longtime readers and fans of S scale will know Simon's name. He's the designer and builder of the CNR 2-6-0s and 4-6-0s that are the backbone of my roster. Like this one:
In fact, it's fair to say that without his fine work I would not be modelling the Port Rowan branch – or, even, modelling in S scale. The story of how I ended up in S scale was one of the first posts I wrote on this blog, and a pair of Simon's beautiful CNR 10-Wheelers plays a pivotal role in that tale.
So, it was with some excitement that I was finally – after so much time and progress – going to be able to give Simon a tour of the layout that he inspired.
Since three is always more fun than two and since Hunter Hughson and I had planned to get together this week, I suggested that he join us. The three of us had a great time and for the most part the layout did not let me down. That said, there were a couple of issues, including this …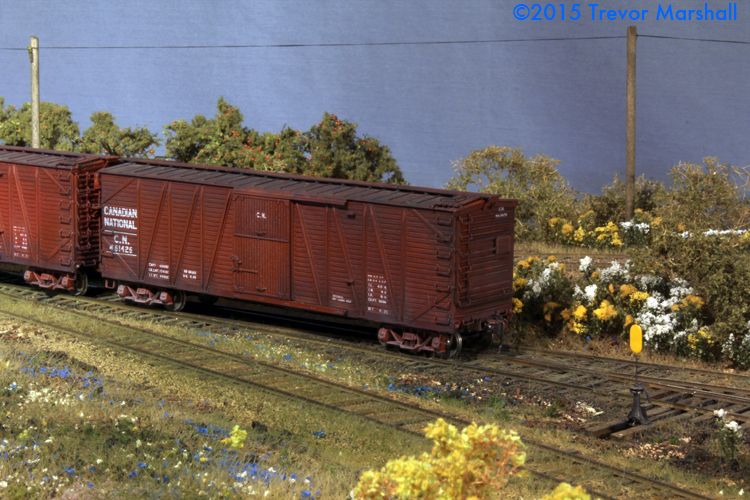 … and this …
We also experienced a couple of DCC system gremlins:
One of my Lenz throttles, which had a cord replaced on it a while back, refused to respond. I suspect I should just bite the bullet and buy a new throttle.

No worries, I thought: I'll deploy the TouchCab App and an iPod – a nifty solution I've written about on this blog several times in the past, and one that I know Hunter really enjoys. Unfortunately, I got an error message and while I was able to select an existing locomotive in the throttle stack I was not able to add a new locomotive address to the app. I'll have to investigate what's going on with that.
The lesson – one I've mentioned many times here in the past – is "run the layout more often". Frequent running often keeps things flowing as they should, I find. Frequent running also allows one to stay on top of issues as they arise, rather than have a whole bunch of them to address as happened last night.
That said, we had a lot of fun and I enjoyed showing Simon and Hunter some of the little details on the layout.
After our operating session, I introduced Simon to the tradition that is Harbord House, where I enjoyed a much needed pint or two.
Simon, Hunter – great to see you both! And I hope you both come back soon. Meantime, I have a "to-do" list to start working through…