In his emails to me about the 3-dome tank car project, Jim King at Smoky Mountain Model Works mentioned that he's still looking for reservations for the GS gon – particularly for the Canadian National Railways variant, which I've written about previously on this blog.

(Click on the image to read more)
The (drop) bottom line is, numbers for a CNR-specific version need to be a lot higher than they are.
That's unfortunate because these cars were real workhorses on the CNR. On my modest layout, I can think of several uses for them.
For example, GS gons were popular for hauling ballast for the railway. Gravel pits at Hagersville were just up the line from Port Rowan, so I could have a car or two in-train – picked up at Hagersville on the way down but headed for Hamilton and points beyond.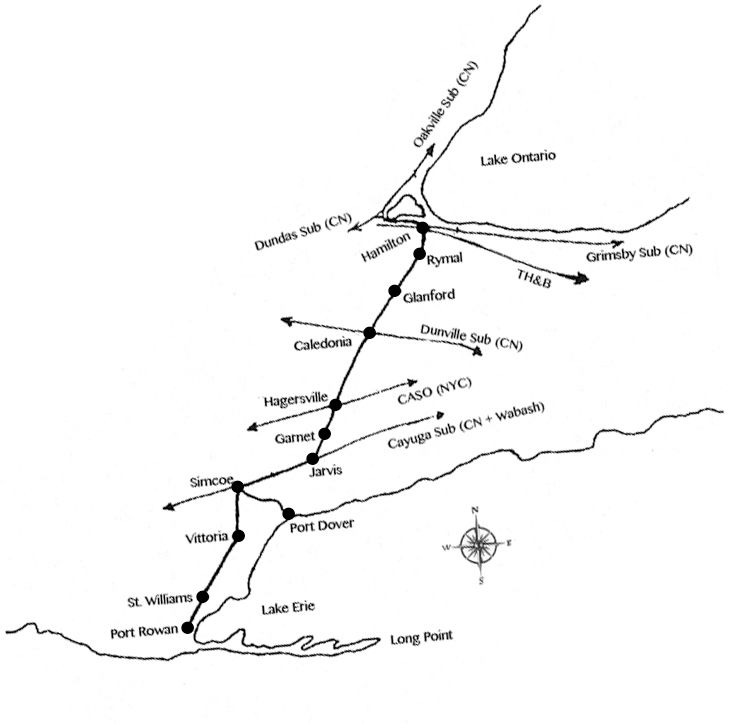 (Map of the line, including the Hagersville Sub (Hamilton to Jarvis), Cayuga Sub (Jarvis to Simcoe) and the Simcoe Sub (Port Dover to Port Rowan))
Or, I could hook a load to my Burro crane and conduct MoW activities along my branch:

(A NYC gondola stands in for a CNR GS gon as the Burro clears ditches in the Lynn Valley)
The GS gons would also have been used for hauling aggregates for construction projects – including highways and other public infrastructure undertakings. I can easily justify a few loads of gravel spotted at the team track in either St. Williams or Port Rowan.
And while I have three customers for coal on the branch, only one of those has an elevated deliver track to make use of hopper cars. The feed mill in Port Rowan, and the coal dealer in St. Williams, would rely on flat-bottomed gondolas so guys with shovels and strong backs could unload the coal by hand:

(Once again, a NYC gondola stands in for a CNR GS gon, at the coal shed in St. Williams)
Given all of their uses – and the fact that different loads would weather the insides of the cars differently – I can easily justify eight to 10 models of these essential freight cars. If you can come up with uses for GS gons on your Canadian-based S scale layout, make sure you place a reservation with Jim.