This week, I had a special guest as my friend Michel Boucher visited for a couple of days.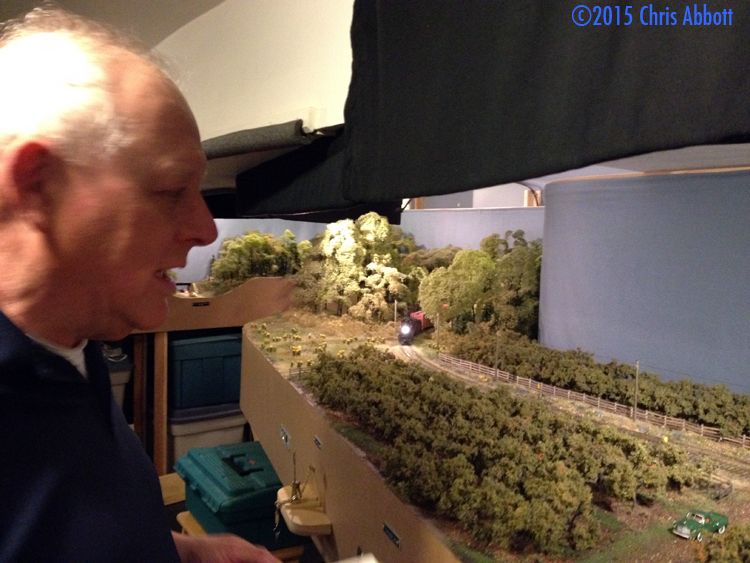 (Michel checks the track ahead as he runs a freight extra into Port Rowan)
Michel took the train down from Ottawa Monday morning. I met him at Union Station and we took the subway and streetcar back to my place. (As a train enthusiast, taking three modes of rail-based transport in one day is sure to put a smile on one's face.) At home, we were met by Chris Abbott – and my wife joined the three of us as we headed to Bar Italia for lunch. This is a great spot for steak sandwiches and a robust red.

(Chris and Michel plan their switching work at Port Rowan)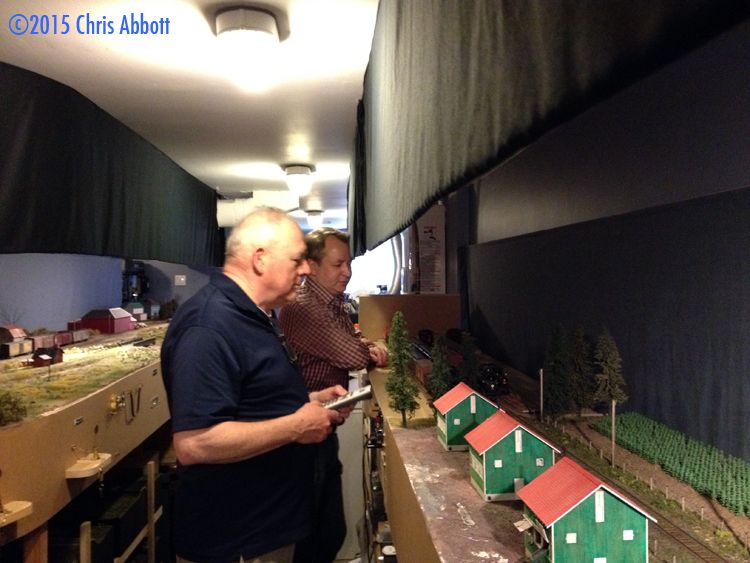 (Michel tests a 10-wheeler as I explain some of the workings of the layout. Despite being a long-time hobbyist who takes great pains to build nice scenery, I've been caught here leaning on the layout. What was I thinking? At least it's just the sector plate…)
After lunch, we returned home, where another friend, Pierre Oliver, joined us for an operating session. Chris and Michel teamed up on a freight extra, while Pierre ran the gas-electric on the mixed train's schedule. The layout ran very well with no derailments, and it was fun to see the two crews co-ordinate their work in Port Rowan. That said, I had a couple of problems with two of my three Lenz throttles. (I've already started to address the issues, as I'll elaborate in a separate post.)
Monday evening, Michel, Chris, Pierre and I headed to Harbord House, where I'd booked the upstairs for a gathering of fellow modellers. (I've written about these previously, and I timed Michel's visit so he could attend one.) We had 27 people for dinner and it was another great evening of conversation and food.
Michel stayed over Monday night. On Tuesday, we headed to The Credit Valley Railroad Company for a bit of retail therapy. Chris lives in the area so he joined us, and I was pleased to meet Gord Ross at the shop. Gord has been reading and commenting on this blog for a while now, and it was wonderful to put a face to the name. I'm looking forward to getting together with Gord sometime soon.
Chris, Michel and I grabbed lunch near the store, then Michel and I headed home – and then back onto The Better Way to Union Station and Michel's train home.
What an awesome couple of days. My laugh muscles are sore from having too much fun.
—
I met Michel in the 1990s when I lived in the Ottawa area, and we became fast friends. I attended regular operating sessions on his home layout. Initially, this was the Ontario Central Railway – a freelanced line connecting Picton and Marmora. Later on, an interest in the Delaware and Hudson Railroad prompted Michel to reconfigure the layout as the D&H Adirondack Branch from Saratoga Springs, through Corinth, Warrensburg, North Creek and Sanford Lake to the mins at Tahawus.
I learned a lot about layout operations at Michel's sessions – including one of the most important lessons, which is that a layout has to run well when company comes. Michel takes great care to make sure this happens – and the result is an enjoyable operating session for everybody (including the host). Thanks for that lesson, Michel: It has definitely influenced my Port Rowan layout.
It was great to see Michel – and it's been too long. I'm looking forward to visiting his place later this year.