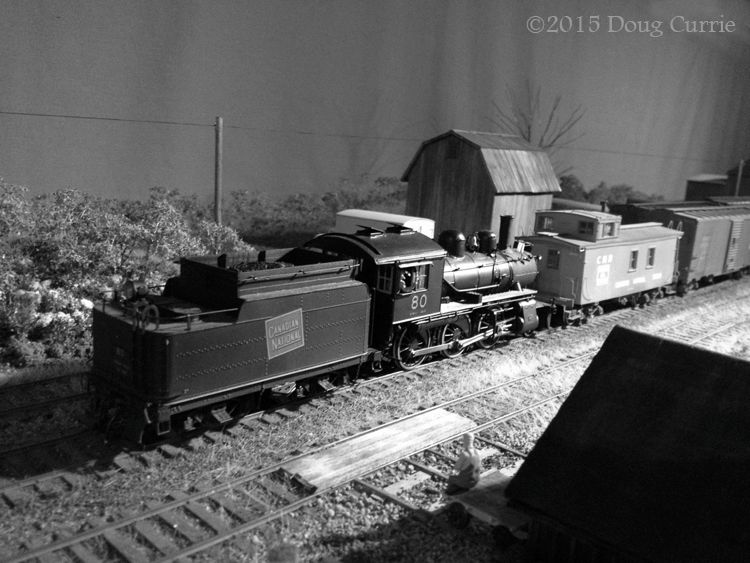 (CNR 80 grabs the van off the back of a freight extra at Port Rowan. The van will be shoved down the run-around track in the foreground to the station. Then the switching work can be begin in earnest)
Last night, two friends – Doug Currie and Mark Harris – came over for an operating session, followed by dinner.
Doug and Mark are both narrow gauge enthusiasts – in fact, I've known Mark for several years through our mutual interest in Maine two-footers. While my layout is standard gauge, it has a very "narrow gauge" sensibility about it – with trains, traffic patterns, and structures that would look right at home on rails spaced 24″, 30″ or 36″ apart.
It was Doug's first visit to the layout, and I always enjoy introducing people to my 1:64 world. I like to start by walking visitors along the line, explaining the features and what story they're meant to tell. (For example, the tobacco fields and kilns help set the layout squarely in southwestern Ontario.) Referring to the chapter on the branch in Steam Echoes of Hamilton helps, too. Doug had many perceptive questions and observations as we toured the line.
Following the orientation, we ran a freight extra behind CNR 2-6-0 number 80. Doug stepped up as conductor, Mark loaded into the cab to be engineer, and I split my time between hosting and uncoupling cars. It was a fairly busy session, with four cars to spot and three to lift. That's probably as much traffic as the prototype would've seen in a month. But people like to switch, and we had a great time.
Operating sessions are always relaxed on the Simcoe Sub to Port Rowan, and plenty of stops were made to take photographs: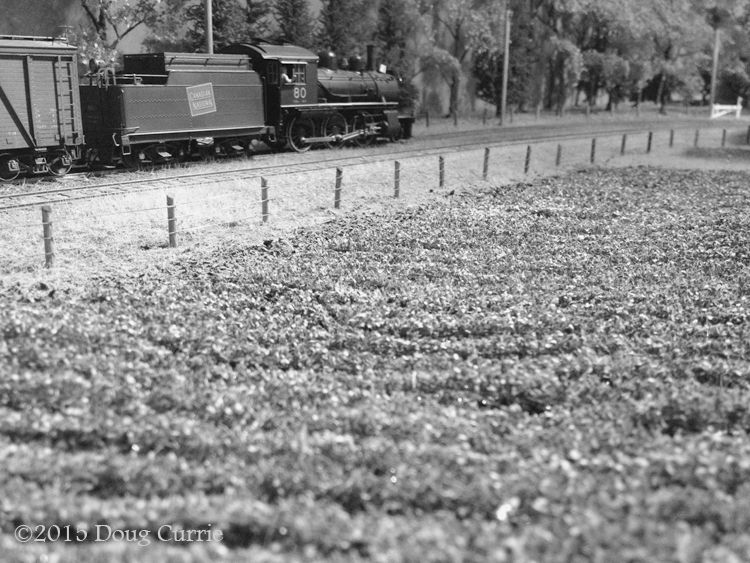 (Extra 80 West is seen across a field at St. Williams: The photographer caught the venerable mogul in a classic "rods down" pose)
While Doug pondered paperwork, Mark learned the ins and outs of running a locomotive using an iPod loaded with TouchCab. I've had the layout set up to use TouchCab for a while now, but it was only a couple of months ago that I decided to use TouchCab as my primary throttle. Everybody's still on the steep slope of the learning curve – including me. But we'll get there. (Next time I see Mark I'll get more feedback from him.)
Over all, the layout ran well – with only one derailment: Our van found the ties as we rolled through St. Williams on the way back to Simcoe. So close to a perfect run! I'll have a look at the trucks under the van and see if they need any work. I suspect more regular operating sessions would help. I need to be better about finding time to run the layout.
—
Mark has run trains on the layout before – but it's been almost two years since he and Andy Malette visited on a swampy July evening and a lot has been done on the layout since then.
Unlike that visit, the weather last night was delightful – so my wife joined us after our operating session and the four of us strolled up the street to The Boulevard Cafe, which has one of the nicest patios in the city. We enjoyed a wonderful summer evening of food, drink and conversation.
Among the many topics covered, we chatted about the change in hobby magazines over the years – and how the coverage of layouts, for example, has moved from an inclusive approach in which even average efforts were profiled to an era where only the best (or, at least, the finished) get ink. We observed that this is in part a consequence of better photography and printing capabilities, which make shortcomings in the modelling even more apparent. It was an interesting discussion and it prompted me to convert Doug's photos from last night's session to black and white, which was the norm in magazines for many, many years.
Too soon, the clock struck "It's how late?" But before calling it a night, we promised to get together again soon for another session. I'm looking forward to it!

(Number 80 creeps off the turntable at Port Rowan. A load of apple evaporating machinery has arrived at the team track from the US Northwest, aboard a Crooked Mountain Lines boxcar.)