As mentioned yesterday, I'm about to start a new project:
A couple of weeks ago while surfing the net I found a neat little model for sale – a scale test car once offered in brass by Southwind Model Works. The car is en route to me as I type this, so I don't yet have a photo of it to share – but there's a write-up on these models, with a couple of photos, in the Product Gallery* on the NASG's website.
Once I determined I could get the model, the question became: "What to do with it?" My branch does not have a track scale, and there's no room to add one even if I felt like straying from the prototype (which I definitely do not).
Still, I like oddball pieces of equipment (which was the primary reason behind building a CNR snow plow, despite modelling August) and I think relocating a scale test car can provide an interesting wrinkle to an operating session: the car must be handled directly in front of the van (caboose) and a train with one of these in tow cannot exceed 20 mph.
I may not be able to run such a train at home, but it occurred to me that it would be a great talking point on the S Scale Workshop modular layout.
It also occurred to me that I might have room to build a small module for the Workshop that features a track scale. They're interesting structures, and we could weigh cars during a session – perhaps as they come out of the brewery that's the focus of a module set by fellow Workshop member Andy Malette: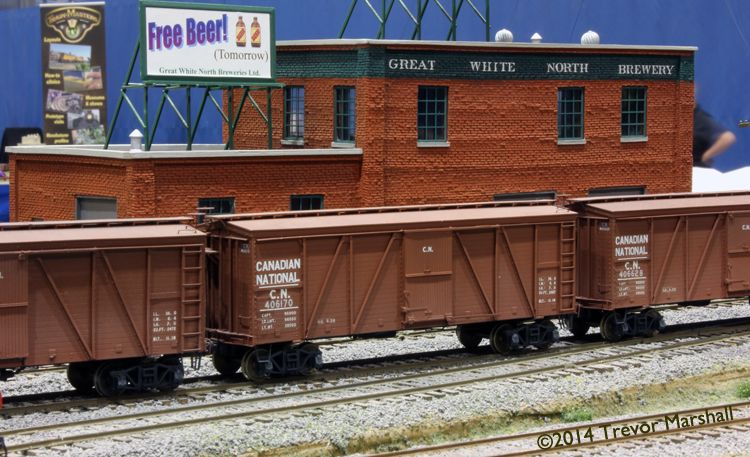 So, I started looking for photos and other information to scratch-build a model of a track scale. Andy saw a post I made to the CN Lines Yahoo Group, put the call out to some mutual friends, and I ended up relieving Jim Martin – another member of the Workshop – of an unbuilt kit for a scale house in S… once offered by Pete Moffett, who is also a member of the Workshop.
It's a funny, small world in S.
The kit looks like a fun project – although I'm going to consider my options for finishing the structure and then decide whether I will build the kit or the resin castings as patterns to make my own walls in wood. Windows, doors and other hardware will be useful, regardless.
But I have a great, small, fun project to tackle this summer – perfect since our house is under renovation so many of my larger projects will be on hold. Regardless of whether I build this kit or use it as the basis for a scratch-built scale house, I'm looking forward to it!
—
(*The NASG Product Gallery is a terrific resource for those working in 1:64. It's a great way to figure out what you've got – or what might be available for one's layout. I like it so much, I've gone through the gallery looking for gaps in its coverage, and have supplied photos to the gallery's manager to help fill some of the holes.)