I recently picked up an Overland Models import of an ACF three-dome tank car. This is a really nice looking model and I was pleased to discover that I can use it to model a car operated by a distinctive Canadian shipper: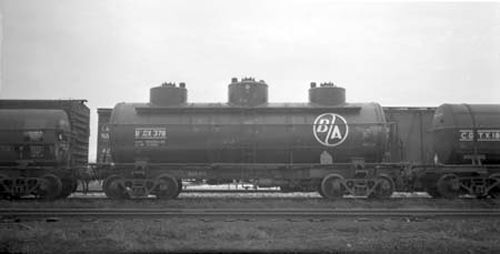 (BAOX 378 from the TA Watson Collection of British American Oil photos. Click on the image to visit the collection online)
Over the weekend, I confirmed with Al Ferguson at Black Cat Publishing that he could resize his HO scale decals for this car and print me a couple of sets. (Al often does this for S scale enthusiasts. As a custom print, the price is 2x the HO set – which is completely understandable. Kudos to Al for his willingness to do this, as it opens up so many options for those of us working in 1:64.)
I sent off my cheque for the decals, and then prepped my car for painting. I thought I'd share a couple of tips related to this.
—
As with other rolling stock, I planned to use train line air hoses from BTS (Item 02302). On this car, the hoses would attach to the bottom of a mounting plate on each end of the frame – and given the small surface area involved, I decided the best way to attach them would be by soldering.
The problem I faced was how to hold the air hoses in position while applying the heat. Fingers would burn… yet metal tweezers would act as a heat sink.
My solution – a set of "soldering tweezers" – is shown here:
This is simply a common spring-loaded clothes pin. I marked a line across the two jaws of the pin, then took the pin apart and put each wooden half into my miter box, and cut the end back on a 45-degree angle. When I reassembled the pin, a couple of passes with a file evened up the jaws so they mated properly.
With this tool, I was able to hold onto the end of the valve and solder the detail in place without burning my fingers. As well, I realized that if I needed a different shape – for example, a narrower set of jaws – I could carve/sand a clothes pin as required.
This is not my invention – I've seen this done before – but it's the first time I've needed such a device. It'll live in my box of soldering tools and accessories and I predict it'll see frequent use.
—
With few exceptions, I prefer to use the same profile wheelsets in all of my rolling stock. Accordingly, I swapped the factory wheels for 33″ P:64 wheel sets from Northwest Short Line (Item number 27787-4).
The amount of work to install these depends on the trucks involved. In this case, I had to completely disassemble each truck – a process that required removing four really small springs in each side frame. I almost lost one of these, and was only saved by the fact that they ferromagnetic: I was able to find it by sweeping a magnet across the floor.
On the plus side, the new wheel sets slipped in perfectly and I was able to reassemble the trucks without any further incidents.
Normally, once I've confirmed that the NWSL wheels will fit (and I have made any modifications to the trucks to ensure they roll smoothly), I will remove them and replace the factory wheel sets for painting. However, I didn't want to take a chance with losing those springs: One close call is enough. So this time, I felt it prudent to leave the wheels in place.
I plan to paint this car black and did not want to get paint on the wheels. So I taped them up, using my new favourite product for this – Tamiya masking tape:
I'll brush paint the faces of the wheels when I'm finishing the car, and leave the treads shiny.