On Friday, I visited my friend Pierre Oliver in St. Thomas. His house quite close to the Port Stanley Terminal Rail tourist train – which was playing host to Thomas the Tank Engine.
Pierre and I set aside our "serious hobbyist" attitudes to just enjoy watching a goofy train roll by… every 15 minutes. I couldn't resist grabbing a quick video:

(You can also watch this directly on YouTube, where you may be able to enjoy it in larger formats)
Thomas wouldn't look at us. Was it something we said?
While some of us joke about this guy – and I'm still not sure how successful he is at converting kids into railway modelling enthusiasts over time – Thomas is a huge draw for the PSTR and the Elgin County Railway Museum. The Thomas days provide a much-welcomed injection of funds to these organizations.
And when one looks past the little blue fella, one finds an interesting consist in that tourist train and on the property. In addition to the GE 44-Tonner in the video, the PSTR owns three other small locomotives from a variety of builders. Meanwhile, the passenger fleet consists primarily of re-worked cabooses, which would make for interesting kit-bashing challenges. And everything is painted in a very attractive scheme.
Have another look at that video and check out the consist. Not all that easy to model after all, is it? Perhaps Proto:Thomas is in our future?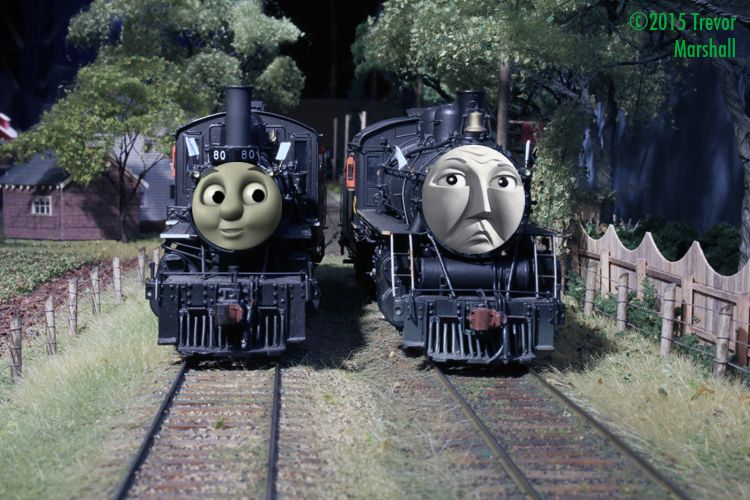 Hmm… perhaps not.
—
In addition to playing at rail fans, Pierre and I did a lot of hand-waving in his future layout room. I think we made some great progress on figuring out what will fit, and how. I look forward to helping Pierre build the new layout when the time comes…
Finally, I picked up a few freight cars that Pierre built for me. I have some finishing to do on them so no further details now.. But I'll share them in the fullness of time…
Great to see you Pierre – and the new house looks wonderful. Exciting layout-building times ahead!