In a previous post on my recently-completed BAOX tank car, Walker Coe asked about whether we follow safe marshalling rules on my layout. I'm guessing he asked because of the photo I used to illustrate the post: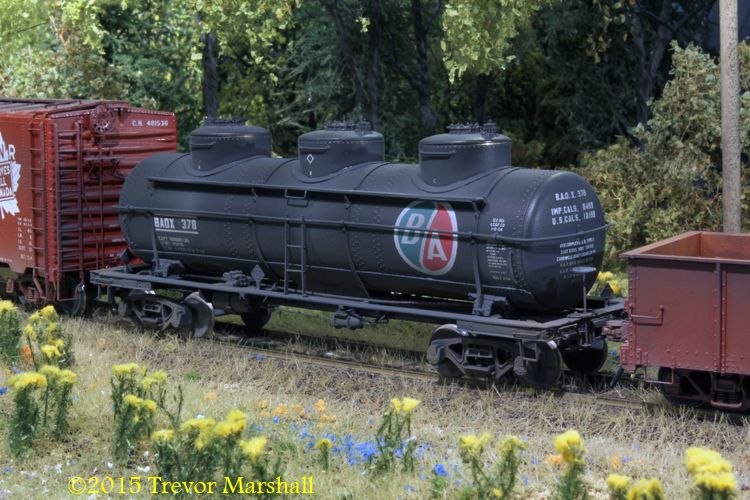 (Click on the image to read more about this tank car)
The picture shows a gondola placed next to the tank car. That would be a problem if the gondola was carrying a pipe load – like this:

(Click on the image to read more about this gondola and its load)
But the gondola in the first image is empty, so we're good.
The answer to Walker's question is, "Yes". We do follow safe marshalling practices when building trains on the line to Port Rowan. As Walker pointed out, a dangerous car (like a car full of fuel) cannot be placed next to a locomotive, an occupied van (caboose), or loads that are prone to shifting and not protected by a bulkhead.
These rules apply to freight extras on my line. For mixed trains, the rules are even more specific. They include the above rules, plus some rules that apply to passenger and mixed trains. I've included the rules for mixed trains in the Special Instructions section of my employee time table:

(A much-condensed employee time table: Click on the image to read more about it)
My version of the rules for mixed trains is condensed from a prototype CNR employee time table. The rules, for my layout, read as follows:
No freight, merchandise or lumber car shall be placed in any passenger train in the rear of any passenger car in which any passenger is carried.

There shall be a buffer car between the locomotive and the first coach carrying passengers. In local and mixed train services, a combination baggage or express car with passenger compartment shall be considered a buffer car within the meaning of this rule, if the baggage or express end of such car is next to the locomotive.

In mixed trains, one more more cars must be handled between postal, express or passenger cars, and car or cars containing oil or gasoline.

Whenever it is necessary, after arrival, for a mixed train to move the passenger cars away from a station platform to perform switching, unloading of freight, or other service, a second stop must be made prior to departure if there are any passengers to detrain or entrain.
—
As an aside, the first rule in that list is the reason that when the mixed train backed from Simcoe to Port Dover, the passenger and LCL equipment was shoved by the locomotive but any carload freight was hauled behind the locomotive – putting the locomotive in the middle of the train. In the photo below, this train is backing to Port Dover – shoving two passenger cars and a boxcar that's operating in LCL service. But while it's out of view to the left of this image, there's carload freight for Port Dover tied onto the front of the locomotive:
—
It's details like the proper marshalling of cars in a train that help bring a relatively simple layout such as mine to life, so I employ them whenever I can.
(Great question, Walker – thanks for asking!)