Well, take your pick.
A couple of recent postings I made in different venues prompted an interesting response from readers. I thought I'd bring the two ideas together and present them here.
First, in response to my blog entry on the S Scale Workshop appearance at Exporail, my friend Gene Deimling commented on the fact that the group had two new locomotives on the layout – a CNR 2-10-2 and a CNR 2-8-0. The first was scratch-built – the second was a brass model that was so extensively modified that it qualifies as scratch-built too, to my mind.

(CNR 2-10-2, a scratch-built model by Simon Parent)

(CNR 2-8-0, an extensively modified brass import by Andy Malette)
Gene – well known in the Proto:48 circles and an accomplished builder himself – wrote:
S has become the builders scale. O gauge gave up the title years ago.
About the same time as Gene was making this comment, over on the Canadian Railway Modellers group on Facebook Jurgen Kleylein observed:
S scale is the new "narrow gauge" … the amount of scratch building and craftsman work on engines and rolling stock is definitely reminiscent of the way people were approaching HOn3 and On3 years ago.

(An example of kit bashing that's almost scratch-building: an in-progress view of my CNR plough. Click on the image to read more about this model)
These are both interesting observations – and I think that there's some truth to them. Obviously, there are people in every scale/gauge who pursue the hobby at a craftsman level, and who prefer to "build" instead of "buy". But there are a few factors that help explain why S is getting this reputation.
—
First, S is a terrific scale for the scratch-builder – particularly those of us who grew up on imperial measurements. Any decent ruler marked out in inches will also be marked out in 1/64ths of an inch – and each of those equals 1 scale inch in S. What's more, the size of the models is easy on the eye: they're larger than HO scale and therefore easier to detail, while being smaller than O scale so more manageable in the average layout space.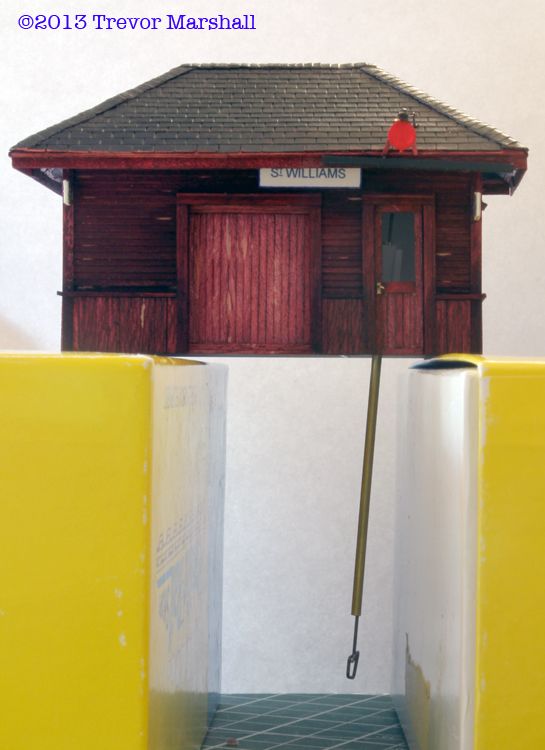 (S is a nice size for adding details that might be overlooked in HO. I might not have attempted a working train order board in HO, but in S it turned out to be a straightforward project for my model of the St. Williams station. Click on the image to see a video showing the order board in action.)
—
Second, there's the matter of necessity. S scale – particularly when modelling a specific prototype – forces one to haul out the raw materials, data and tools and build from scratch, because there's just not a lot available commercially. At least, not when compared to other scales.
I would argue that O scale lost that "build it" imperative when Atlas made its serious commitment to 1:48 with the launch of Atlas O in 1997. Atlas offered O scale products before Atlas O, but with the new line of business it made a serious push into 1:48, bringing HO scale manufacturing and marketing sensibilities to the scale. I think it's fair to say that Atlas O's success encouraged other, smaller companies to support the scale, and 1:48 went through a renaissance. That said, when product is available to buy, the imperative to build is reduced.
Substitute "Bachmann" for "Atlas O" and the same logic can be applied to narrow gauge. Bachmann's decision to create and market a line of On30 equipment was a boon to O scale narrow gauge modelling in North America. And Bachmann's success encouraged other, smaller companies to introduce products to support On30 modellers. At the same time, On30 lost its reputation as a kitbasher's scale: When great RTR is available, not to mention great kits that are custom-designed to fit available mechanisms, the impetus for scratch-building and kit bashing is reduced.
Again, this is not to say that people do not scratch-build in O, or in narrow gauge. Craftsmanship abounds. But compared to how it was a decade or two ago, scratch-building is more of a choice, not a necessity. It's still a necessity in 1:64.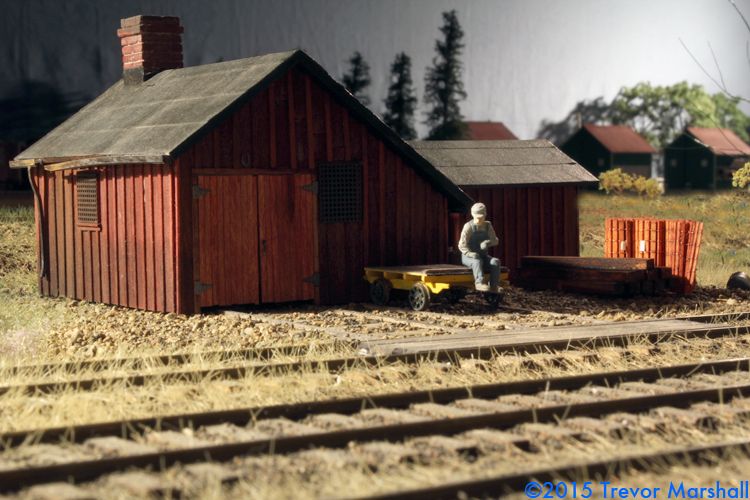 (Even little details like the rolls of snow fence must be scratch-built in S. Click on the image to read more about the Port Rowan section house.)
—
Third, S scale has always been a scale that has attracted scratch-builders, but they were operating below the radar: Those outside of the scale (including me, at the time) didn't know what was going on in S. That's yet another thing that's changed with the Internet. Blogs (not just this one), forums, newsgroups, YouTube, Facebook and other social media channels have made it easy for those who build to share their efforts.
—
Obviously, I'm thinking a lot about this subject after reading the comments from Gene and Jurgen. Thanks, both of you, for the observations!