I was pretty busy with work on Monday so Jack and Mocean did not get their morning walk until mid-day. Eventually, guilt set in and I took them for a quick spin around the neighbourhood. We have a short walk we do when I have things to do – basically, around a long block – because it only takes 15 minutes: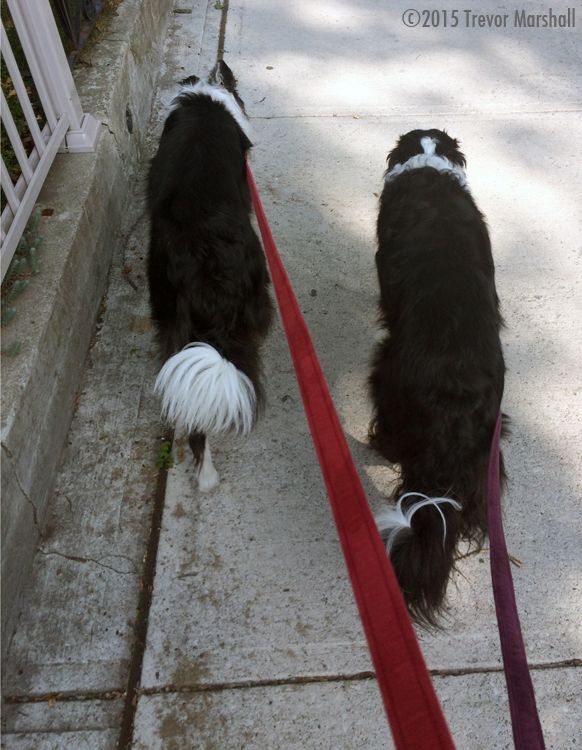 (Jack and Mocean: Judged by the tension on the leads, we're making good time – which is not always the case…)
Timing is everything, however – and when we reached the half-way point I passed two guys who looked familiar but I couldn't quite place them. (This happens when people are out of context: I remember seeing a woman at a neighbourhood party and having this same problem. I solved it by asking her and as we worked through our various possible connections we discovered we both have dogs: Problem solved! "Oh – you're Obie's mum!" But I digress…)
The two gentlemen were having the same problem – I looked familiar, but I was out of context.
Of course, the context is train-related: Specifically, the annual S Scale Social organized by Jim Martin – because that's where I've met both Brian Walsh and Dennis Rowe.
Brian and Dennis were in the neighbourhood to visit a friend and were just heading back to their car when we met on the sidewalk. We got talking and since my place was just a block away, I invited them in to see the layout: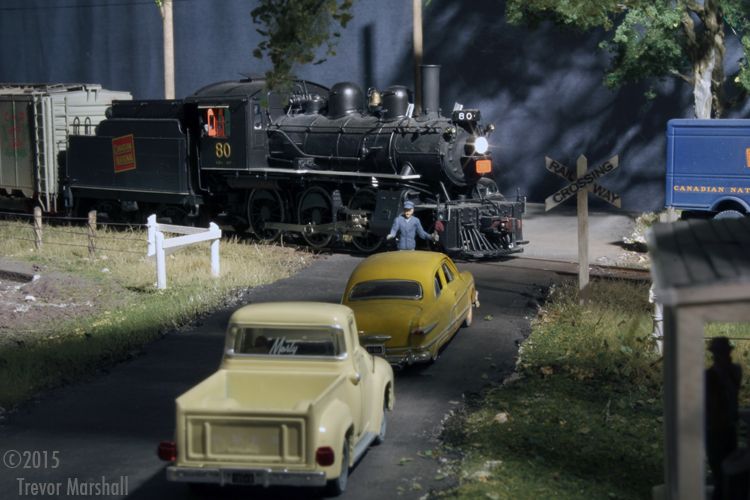 (A flagman protects Charlotteville Street as Extra 80 West creeps through St. Williams)
Dennis makes some really nice trees – and had these samples on display at last year's S Scale Social…
… so we had a good chat about the ins and outs of building convincing trees in 1:64.
The visit wasn't long – Brian and Dennis had to rescue their car before their parking expired, and I had to get back to work. But it was a lovely break in the day and I'm really glad we ran into each other.
Great to see you both – and I hope to see you at this year's S Scale Social in a couple of months!