(The group photo: It's a lot like one of those grade school class pictures, isn't it?)
On Sunday, I joined two dozen fellow hobbyists at the annual S Scale Can-Am Social, organized by my friend Jim Martin and held at a community centre in Lowbanks, Ontario – on the north shore of Lake Erie. This meeting brings together a number of S scale enthusiasts (plus some friends who work in other scales). Most of us are from southern Ontario, but as the "Am" part of the name suggests, the event also attracts many American friends from western New York.
Others come from farther afield. I've known Alex Binkley from Ottawa for many years and it's always good to see him at the meet. And it was a real treat to host an operating session the night before with Brian Nicholson from the Montreal area and my friend Andy Malette, followed by a dinner at Harbord House.
This is a small gathering and it's mostly a social event, although Jim does try to organize a few short clinics for after lunch. Many people bring along things to display. I always make an effort to do this because see what others are doing in 1:64 is one of the things I enjoy most about this gathering. This year, I exhibited the four "enjoyable diversions" that highlighted my fourth year of building Port Rowan: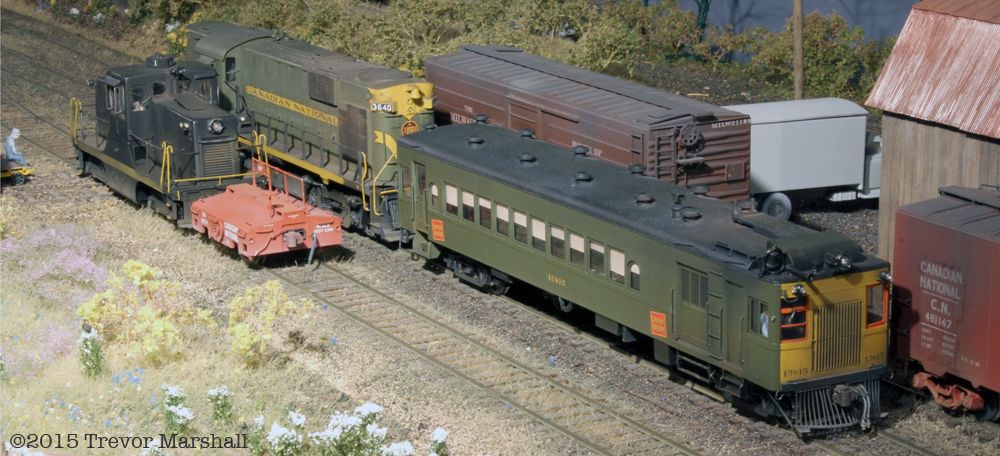 (Enjoyable diversions: Click on the picture for more info)
One of the most enjoyable displays was a collection of steam locomotives in 1:64. Most of these were built by Paul Raham for his 1919-era Moira Valley Lines layout. (Paul was profiled in the NASG Dispatch in 2003, and a copy of that is available online as part of the S Scale Workshop's collection of publications.) This display included contributions from Andy and Jim as well:
Andy always surprises me with his projects. He's a talented modeller with wide-ranging interests. This year, his display included two GEPX milk cars that had been used by Labatt's – then a major Canadian brewery – to haul beer. Andy worked with Al Ferguson at Black Cat Publishing to create the artwork for these terrific cars:
In addition to the people and the displays, the event is also an opportunity for attendees to find better homes for stuff they no longer want. Every year I attend this meet, I think, "Oh, I'm not going to buy anything because I have everything I need" – and every year I'm glad I've taken my chequebook because I always come home with goodies. Last year, it was the EMC Gas Electric: This year, tools made up most of my purchases.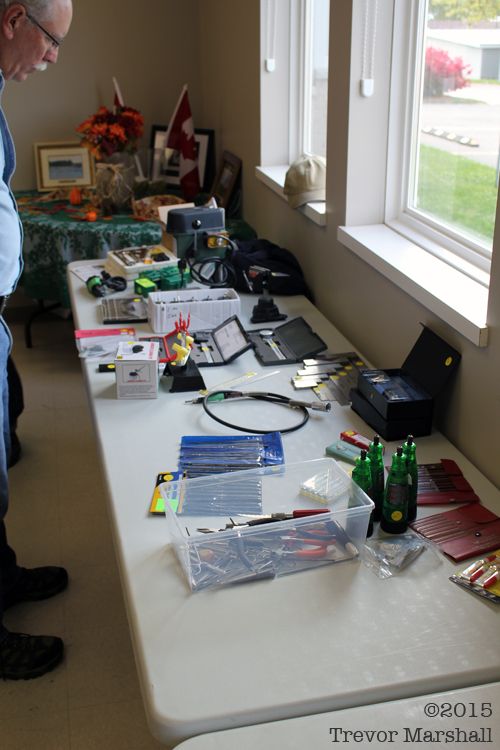 Dan Kirlin was selling some tools from a friend who had passed away recently, and I picked up two lovely additions for my workshop. The first is a Starrett dial caliper. The second is a Flex Shaft tool. Both are in excellent condition and were offered at a very good price. I look forward to putting them to good use.
And then there was the tool that got away: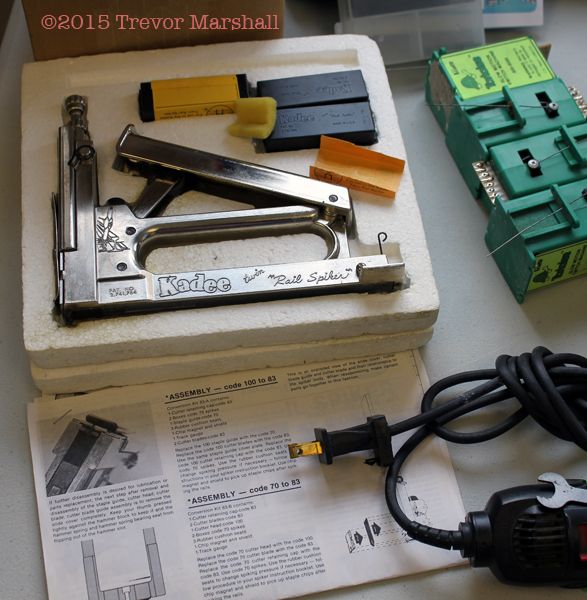 I don't really need one, but I've never before seen the infamous Kadee Spiker and I was sorely tempted to buy it anyway. But, I dithered – and it went home with somebody else.
It wasn't all tools, however. I also found a like-new example of the Ridgehill Scale Models coal dealer at a good price. I'll build this – with or without modifications as I see fit – and then decide whether it'll go in St. Williams or replace the existing coal shed in Port Rowan (which would then move up the line):
Finally, a special thank you to Dan Kirlin who showed up with a fat envelope full of information to help with a project I'm planning. Very much appreciated, Dan: Cheers!
Thanks too – as always – to Jim for organizing this gathering. It's always a fun day out, and I'm looking forward to the 2016 meet!