Last week, I wrote a post about the Soundtraxx SoundCar decoder. Today, I opened up the tender on a CNR 10-wheeler with an eye to installing one – but then I did some testing with the speaker I planned to install and decided that the SoundCar isn't appropriate for this layout.
It's a great little decoder – don't get me wrong! – but what I really need is the occasional bit of flange squeal on a few key curves on the layout. These are:
– The main and siding in St. Williams
– The curve from the east end of the Lynn Valley to the water tank
– The curve between the Lynn Valley water tank and Port Rowan
– The S curve on the elevated coal delivery track in Port Rowan
One of the things I realized in testing the SoundCar is that, while Soundtraxx provides adjustments to acceleration and deceleration, it doesn't provide an adjustment for top speed. That's problematic for my layout, because I've created custom speed tables for the locomotives that severely limit their top speeds. I did this because I have a 20 mph speed limit on the line yet I'd like to be able to use the full range of the throttles. It makes no sense to have "rockets on rails":
Unfortunately, this means that the sounds generated by the SoundCar will quickly go out of synch with the action on the layout. I'll be trundling along at a sedate 20 mph (at speed step 126 on my throttles), yet the SoundCar would generate flange squeal and jointed rail noises appropriate for the CNR's Turbo Train at full throttle:
So… no.
Instead, I'm looking at what Scott Thornton has been doing on his delightful Iowa Interstate – Milan Branch layout. As Scott writes in this blog post, he is using components from Iowa Scaled Engineering to add ambient audio to his layout – including flange squeal.
I've use ambient audio quite effectively on my layout already using components from Pricom Design: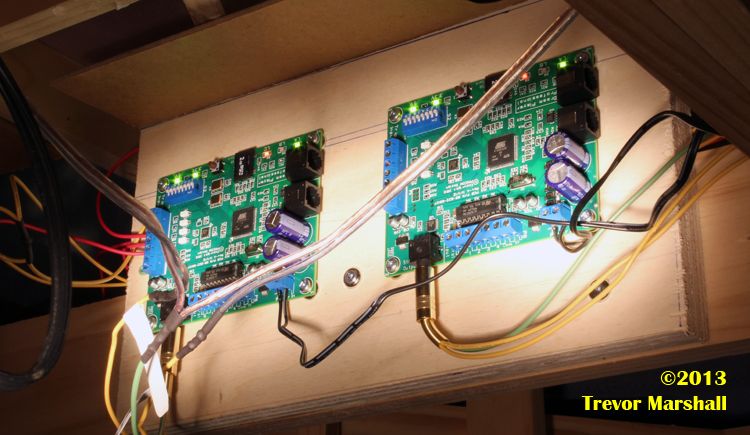 (Click on the image for more information about my ambient audio system)
I'm extremely pleased with the Pricom solution. That said, it's expensive – and since and I'm thinking about four or five discrete locations to add flange squeal effects, I'm attracted to ISE's more economical, if less powerful, sound player for this particular application.
I continue to ponder this. I need to figure out a number of issues – including the trigger mechanisms (which could be reed switches, IR detectors or something else), the location of speakers, the appropriately "squeal-y" sound files, and so on.
But progress has been made – and I don't have to add more electronics inside the tenders of may already-stuffed steam engines.