You can't have just one!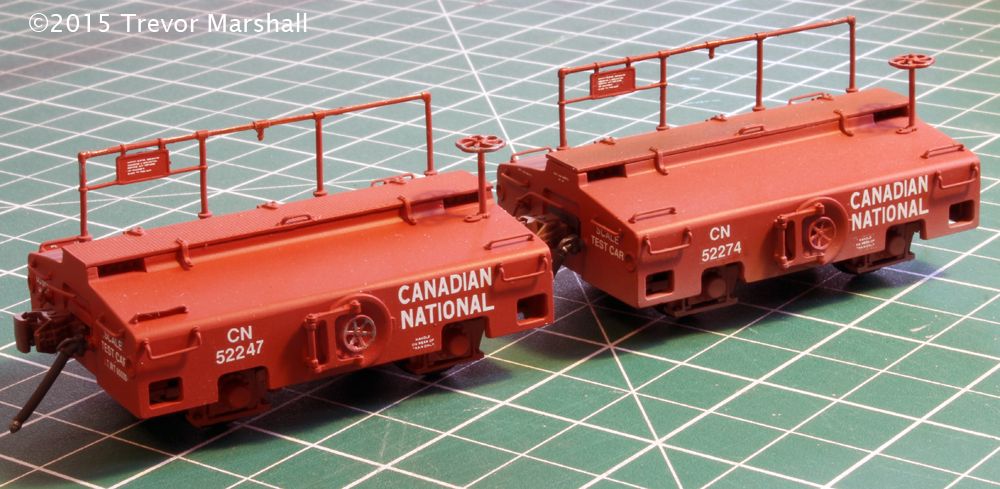 (CNR 52247 is painted and lettered. It will receive very light weathering – as shown on CNR 52274 – before entering service.)
Actually, you can – it's your railway, after all.
But when I researched these prototypes so I could finish my first scale test car, I learned that they were often used in pairs to calibrate railway scales. Many prototype photos show them running in pairs, too – right in front of the van, as required because they are not equipped with air brakes.
So, as reported earlier on this blog, I acquired a second example of these South Wind Models brass imports. I had purchased extra decals when I did my first car so I had everything I needed to finish my second model. (To read more about my models, check out the Scale Test Cars category on this blog.)
I finished the second car like the first, although I changed up some of the lettering – especially on the ends: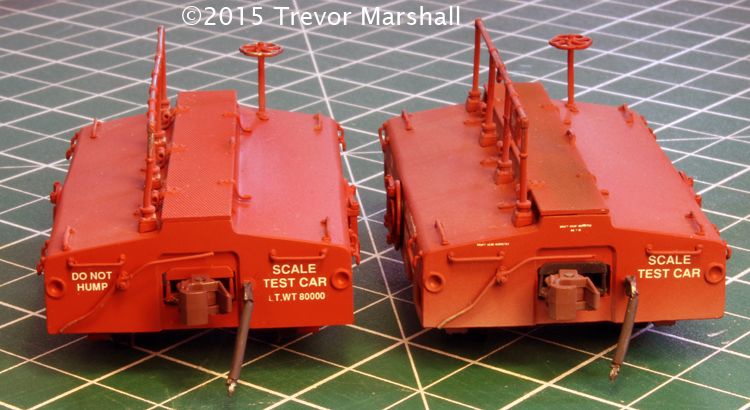 (CNR 52247 – on the left – includes a "DO NOT HUMP" warning)
I did run into two slight problems while lettering the second car:
First, I discovered I had run out of the "CANADIAN NATIONAL" lettering, which I pulled from a set of Black Cat Publishing decals for an HO scale CNR van (caboose). A trip to the local hobby shop – combined with other errands – solved this issue.

Second, the lettering set from Andy W. Scale Models only includes one road number – 52274 – and no number jumble. Since the cars would likely be in the same series – specifically, "522##" – my only choice was to letter this car 52247. An extra line of numbers on this otherwise excellent decal set would've been much appreciated – especially since these cars often ran in pairs.
This was a terrific little "kitchen table" project to work on while most of my tools and materials are packed away (and the renovation continues on schedule, so I should be able to unpack things soon). I'm looking forward to building a scale house – likely as a module for the S Scale Workshop – so I can put these neat little cars to good use.