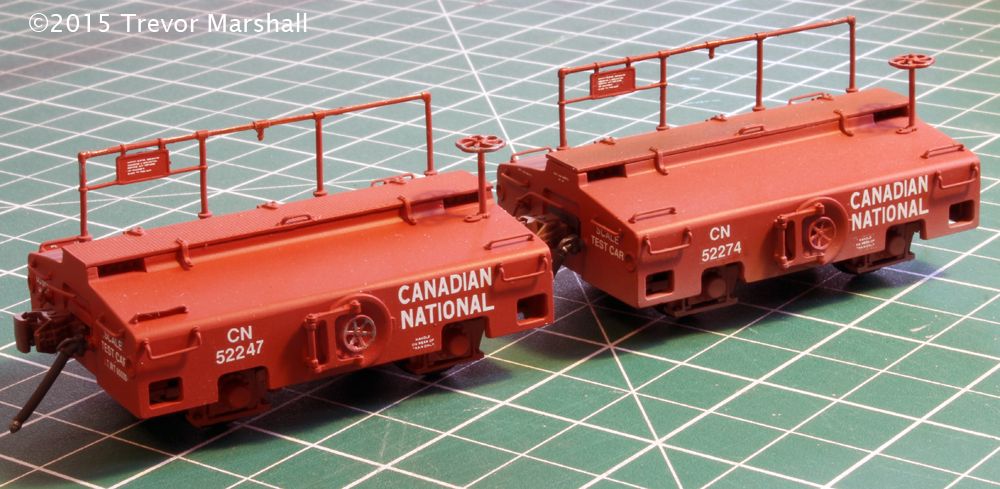 (CNR 52247 is painted and lettered. It will receive very light weathering – as shown on CNR 52274 – before entering service. This might be my last project for a few weeks as I declutter the room adjacent to the layout and build a new workshop.)
The good news is, our house renovation (the top two floors, anyway) continues apace and should be wrapped up by the end of January. At that point, our architect/contractor will go away for a while – he'll work on another project for 8-9 months while we lick our financial wounds – and then we will start talking to him about doing the main floor, including the kitchen, living room, dining room and a powder room.
Somewhere in the hiatus, I'll draft a plan to turn the room adjacent to the layout space into a new workshop (for this and other hobbies). I'll then acquire the materials and create a superb space for building things.
The bad news is, now that we're in the unpacking phase I find that the space for this workshop is full of boxes of tools and materials, plus other things (including furniture and family treasures) that must be sorted and either moved elsewhere in the house or discarded. Added to that is the stuff that was being stored elsewhere in the house, that now has to be moved into the future workshop space temporarily. This includes the tools and materials I'd kept out of the basement to work on simple projects like my recently completed second scale test car.
So, until I unload some things that are surplus to requirements and have a workshop plan in hand, there may be little to report on this blog. I'll do what I can.
I still intend to visit friends' layouts, do research, and otherwise keep my hand in – and will share when I do. Stay tuned!
I hope to return to my usual blogging frequency early in the new year. Exciting times ahead.
All the best to you for 2016!