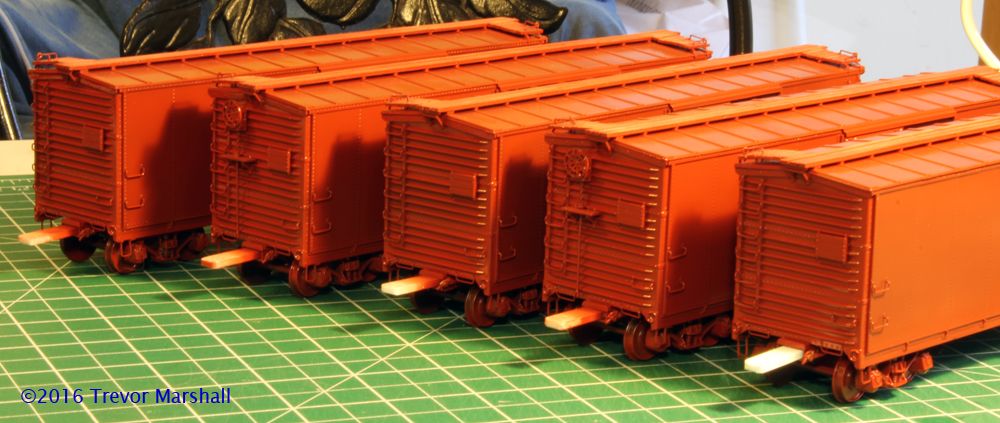 (With plenty of time for the paint to cure, these five cars are ready for lettering – a good "kitchen table" project)
Over the holidays I managed to make some progress on my CNR 470000 series boxcar project. As reported earlier, I'm working on five cars that are credible stand-ins for some USRA cars that were rebuilt in 1936.
Having finished all detail modifications (at least, those modifications I was willing to do), I ran these through the paint shop for a coat of CNR mineral red from the CNR Historical Association's line of Scalecoat paints.
I decided – finally – to get smart about painting rolling stock, and crafted some tongues out of styrene to screw into the coupler boxes. These can be seen in the lead photo. I installed these at both ends of the cars.
The tongues help keep paint out of the coupler boxes. They also provide a handy handle for moving the cars in and out of the paint booth. Since S scale manufacturers have pretty much standardized on the Kadee S scale coupler (I use the brown Kadee 808 model), these tongues will come in handy for future painting projects, too.
(The manufacturer's wheel sets will be swapped out for NWSL replacements before the cars go into service. For now, they keep paint out of the journals and give me something to stand the cars on.)

(Ready for lettering. The reading glasses are now an essential item when working with white decals)
I painted the cars in early December and then got busy with other commitments. On the plus side, the paint has had plenty of time to cure in preparation for lettering. Over the weekend, I set up on the kitchen table and got to work. The decal sets are number 524206S from Al Ferguson at Black Cat Publishing.
Lettering rolling stock is an ideal project when one's workshop is otherwise inaccessible (as mine is right now). It's a "clean" project that doesn't require a lot of tools, materials or space, so it can be done at the kitchen table. Over the course of an afternoon, I got the first sides done on all five cars. Having left the decals overnight to dry thoroughly, I'm now going over them with a sharp scalpel and the aggressive decal setting solution. The heralds, in particular, need some extra help to settle down over the panel rivets.