In response to my previous posting on the CNR 470000 series boxcar project, René Gourley commented:
Gosh, isn't that an awful lot of one class of car for your little pike, Trevor?
It's a terrific question and I decided it deserved its own post in response.
Yes, five models of one class of car is a lot for a layout as modest as mine. I could get away with a dozen pieces of rolling stock, for the entire layout. But I'm modelling a large number of this class of car to help address some shortcomings on my layout:
1 – I model in S scale. There's not much equipment available in S scale, compared to other scales. I can model a few classes of CNR boxcar, but not as many as I could in HO for example.

2 – I can't justify a wide variety of car types on my layout. I have friends who model bridge lines, and almost anything goes. But I model a small terminal of a lightly-trafficked branch line. Only cars that are serving the few industries I have would show up on the layout. Most of those are boxcars.

3 – What's more, it's a branch of the CNR in the steam era, which means the lion's share of the rolling stock has to be home road. I can enjoy the occasional car from an American railroad, but my trains would never look like the "alphabet soup" of reporting marks that one would've seen south of the border. So, most of the rolling stock that appears on my layout will be CNR boxcars.
That said, I want variety. I don't want to see the same few cars in every operating session. Yet given the limits outlined above – both prototype and model – how do I achieve that?
On my prototype, over the course of a year, one might see the same class of cars showing up all the time. That makes sense, because the same customers would ship or receive the same types of products. But within a given class, it would be rare for the same car to show up again and again – especially if we're talking about something as ubiquitous as a boxcar.
So, one way I can add variety to my operating sessions is to model several examples of each class of car that I can actually model in S scale. They might have minor detail differences – or lettering differences (like a different logo) – or even just variations in weathering patterns.
I've done this with other cars, too – my ARA 1937 steel boxcars are a good example. I have five of these on the layout already, and will build more of them.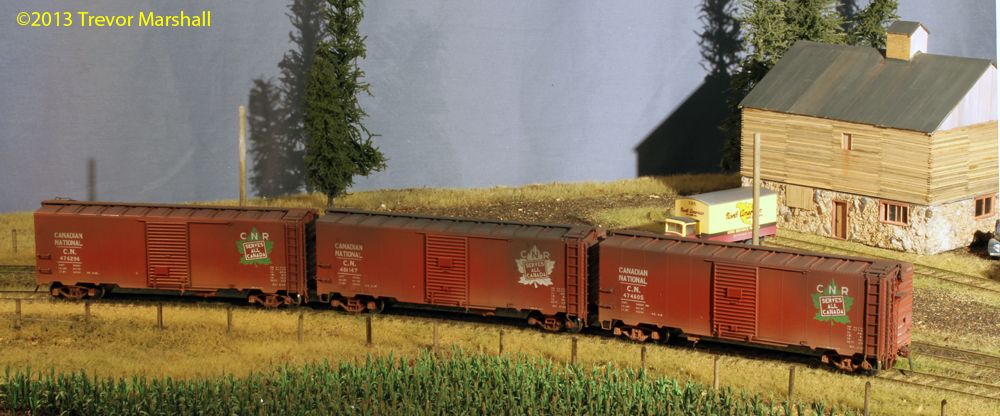 (Click on the image to read more about the dominance of home road boxcars on a mid-century Canadian layout)
And of course while the cars are the same class, each car number is different. Operators will have to pay attention to the details: They can't simply look at the train and say, "Oh, that's the USRA rebuild car – it always goes to Leedham's Mill in Port Rowan".
From a practical side, if I'm set up to detail, paint and letter one car I might as well do a batch of five. I can use them all and I have space to store them as I rotate them on and off the layout – but if I decide at some point that I want to unload some, I'm sure I can sell them on to other members of the S Scale Workshop.
Thanks for asking the question, René!