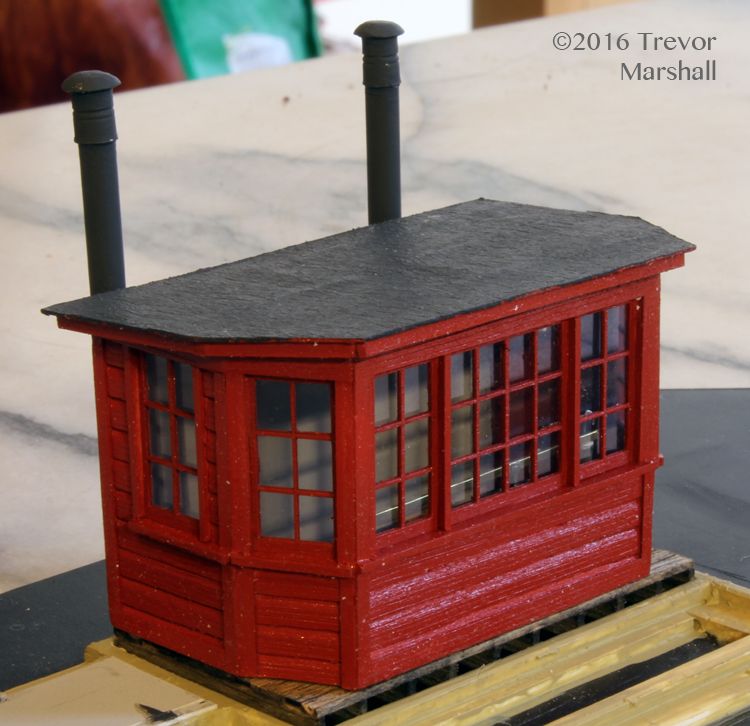 Further to yesterday's post about the scale house project, I have some more progress to share.
Having sprayed the entire scale house with CNR mineral red, I let that dry and then I brush painted some pale grey on the back wall and the ceiling, to lighten up the interior somewhat. (It's easier to see the scale mechanism now that it's not so dark inside.)
I also painted the scale and stained the floor:
I mentioned the ventilator pipes in a previous post. They're scratch-built from styrene tube sized to match some HO scale white metal castings for mushroom-style roof vents from Scale Structures Limited.
Finally, I added a latch to the door, made from a rectangle of paper (cut from one of the "Train Shop Wish List" pads from a local hobby shop, which I thought was entirely appropriate) and a bent-over Details Associates eyebolt:
Still lots to do, but I wanted to get a good start on the project so I would have something to show at Hunter's place this past Saturday – and the in-progress model was well received. I'm looking forward to tacking the next piece of the scale house…