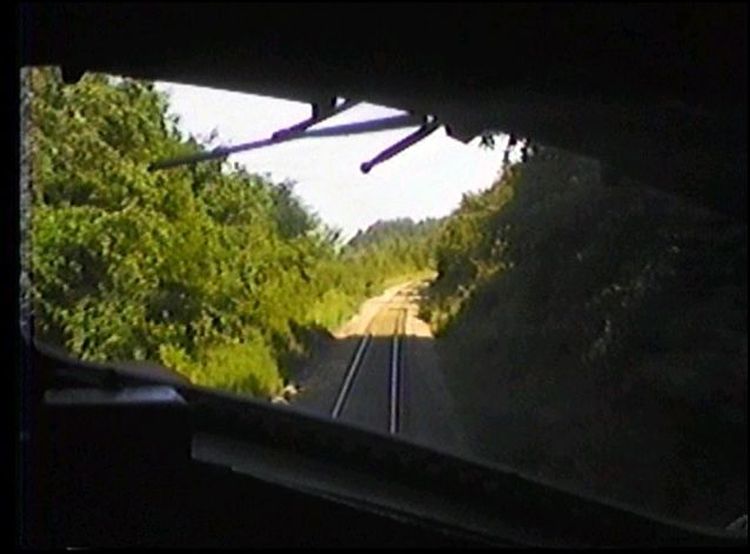 (A fake cab to enclose a camera might provide a more realistic view of a layout – by controlling what we can see and eliminating some of the things we don't want to show)
My post on the Cab ride to Port Rowan generated a lot of feedback – thanks for the kind words, everyone!
I found it interesting that a number of people commented on how the "from the cab" perspective changes how one views a layout. Specifically, people noted that it's not the best way to view a layout, because we design them to be viewed from the aisle – and I agree!
Viewing a layout from the track tends to expose the things we don't generally see during normal operations. Layout lighting is a big one: we tend to aim lights at the track, and then hide them from our view as we're standing in the aisle. Putting a camera on a flat car often puts the lights right in our eyes (and it certainly did in my cab ride video).
I'm not overly concerned about that. I think it might help to enclose the camera in a fake cab – for example, by framing what the camera sees so the viewer appears to be looking through the window of an F-unit. Done right, it should reduce the non-realistic surroundings that one sees in a video.
When I look at the image at the top of this post, I'm struck by just how little I can see of the world outside the locomotive's window. I'm also struck by how easy it would be to mock-up the window – one can't even see the nose of the F unit, and the interior of the cab disappears in blackness. It's too easy to not try, so a mock-up window is something I'll create at some point. Adding the wiper blades would be a nice touch.
(A similar thing could be done with the mock-up of a rear-end observation car for taking video of a following train.)
What I really liked about the video I shot of the layout is how well it connects the various scenes together. This is something I haven't been able to share with others in the past.
Oh sure – I could publish a layout plan (and I have), and then take photographs or video from the aisle, and mark the plan with numbered photo locations – much like one sees in hobby magazines. But either approach would have its own set of shortcomings:
– A series of photos would still leave questions, like "how long does it take to get from one scene to the next?"

– Video from the aisle would have to consist of a series of static scenes with trains running through them if I wanted to control what the viewer saw, to minimize unrealistic distractions like layout lighting and fascia – so it would be much like a series of still shots in that regard.
They're both worthwhile approaches – and I'll continue to share perspectives taken from the aisle. But the cab ride perspective answers a different set of questions for me, and lets me enjoy the layout in a different way, so I'll continue to share those, too…