In an earlier posting on the Wabash flat car, I wrote (in part):
While the diagram shows paired tractors loaded parallel to the flat car, I will have to secure my Ertl die cast models on a diagonal … The tractors are simply too wide to tie down as shown in the diagram: Their rear wheels would hang off the edge of the car.
Diagonal loading would have looked like this: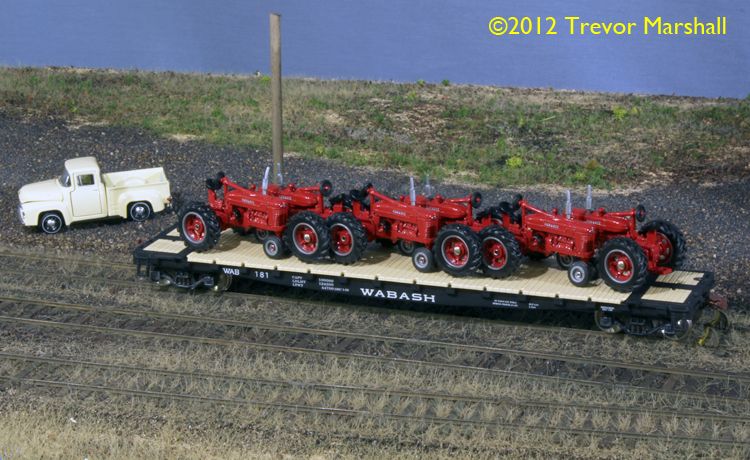 But in the end, I was in fact able to load the tractors parallel to the car, as shown here:

So what happened?
A couple of readers asked about why the tractors wouldn't fit parallel. That forced me to revisit the problem. I realized that if I tucked together the pairs of tractors really tightly and made sure the rear wheels were tight against the body of each tractor, I could squeeze them onto the flat car as shown in this blocking and tie-down diagram:

(Note that the diagram describes proper loading "lengthwise or diagonally", so I could have loaded them diagonally and been prototypical about it.)
The Ertl tractors are toys so they have rotating wheels and they're kind of a loose fit on the axles. This means they tend to lean in or out when the tractor is resting on a surface. Since I would be tying down my tractors anyway – and actually gluing the wheels to the deck as part of that process – I added a drop of CA to the inside of each wheel hub, while holding the wheels tight to the body. This not only secured the wheels in place, but also ensured that the tractors were as narrow as possible. As a result, they fit on the flat car just fine.
That was a small step – easy to fix. The big step was challenging my assumption that they would not fit lengthwise in the first place. Having built such a load years ago for an HO scale flat car…


… I was convinced lengthwise loading would not work on this car before I had adequately investigated all possibilities.
Thanks to those who asked about this.
Another question arose about what I'd do for an empty car.
For now, I simply won't worry about one. Crews will deliver a load of tractors to Port Rowan and – between sessions – the flat car will disappear back into staging. As an unusual load, it will probably only run in every 10th session or so, so crews won't notice this.
But I also have an identical, but undecorated, flat car. At some point, I can letter it, or trade it, for another flat car – either Wabash, Nickel Plate, or another midwestern road. (It does not need to be an identical car). I can add a bit of blocking waste to the empty and swap loaded car for empty between operating sessions.