… in cornstalks!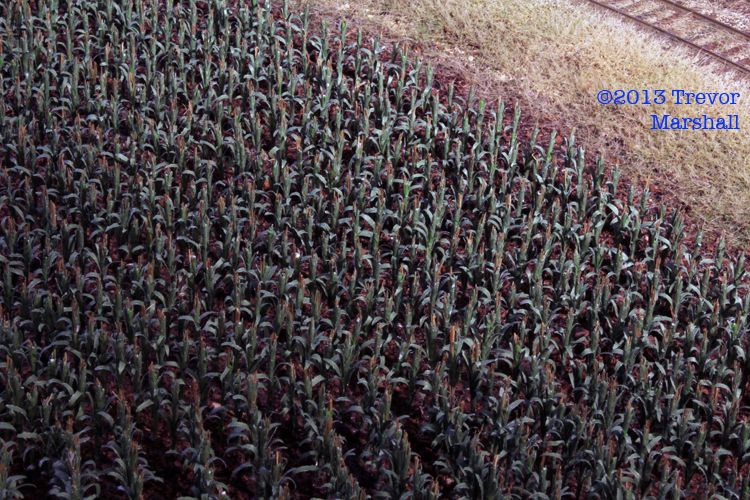 I've just spent several hours over two days planting corn in the large field at St. Williams. I did not count them as I planted, but based on how much I ordered and how much is left, it's safe to say there are more than 2,000 corn stalks in this field:

(To recap, before Christmas I placed a bulk order for these lovely cornstalks, manufactured for HO scale by JTT Scenery Products. The service was excellent – and the package was shipped directly from the factory in Viet Nam.)
I originally planned to plant a field of corn near the depot in St. Williams, and in fact planted a test-patch of about 100 stalks:


(Where the corn used to be…)
But I've decided to do something else with that space, and the big field called out for corn.
Here's how to plant a scale cornfield:

– Poke a hole in your scenery base with an awl.
– Grab a corn stalk with a pair of needle nose pliers (preferably with sprung jaws) and dip the bottom in a puddle of white glue (PVA).
– Stick the stalk in the hole.
– Repeat 2,000 times.
Was the effort worth it? Well, as I look across the tops of the stalks at a passing train, I certainly think so:

While there's still a lot of work to do in St. Williams (including fencing in the fields), I think this area of the layout is coming together nicely. I'm particularly pleased by this view, looking east from the highway overpass:

And it was a nice break from building tobacco!