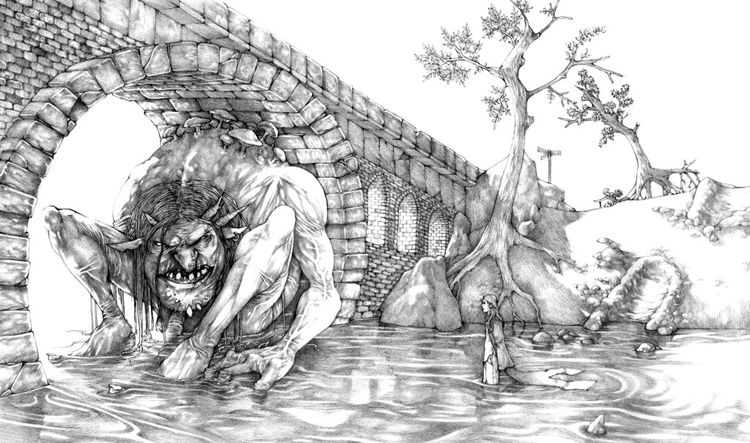 (They belong under bridges, but have NO place in this hobby)
Unfortunately, Trolls exist – and Jim Gore of Florida was recently on the receiving end of their wrath. His "crime"? He enjoys his hobby and built a layout.
Jim's On30 Jemez and Rio Grande is featured in the December, 2014 issue of Model Railroader:
As the MR article notes, Jim envisioned his layout as a freelanced branch line of a famous three-foot gauge railroad through New Mexico known as "The Chili Line" because many of the locals would hang bunches of hot peppers outside their houses to dry.
While enjoying dinner with Chris Abbott this week, I was distressed to learn that after Jim's feature appeared, he received insulting emails and – worse – phone calls from idiots who complained that he did not model the Chili Line "correctly". Chris learned about this from Jim himself – via the Model Rail Radio mailing list. Here's Jim's post to that list, in its entirety:
Dear All,

First, I want to thank so many of you who have said nice things about my layout feature in Model Railroader. Never intended that to be one of my goals in model railroading – it just happened because a friend of a friend talked with Lou Sassi who needed some place to visit in Florida during the winter.

I have always believed that this hobby of ours is exactly that … a hobby. It is something that gives us individual satisfaction and a certain amount of contentment. Ultimately, there is only one person that has to be satisfied, the owner of the model railroad; the rest being "gravy".

It seems that my fictionalized railroad, as a branch-line of the Chili Lines, has sparked outright hatred and animosity among a group of prototype modelers, presumably who are strict Chili Line adherents. If you know any of these persons, can you tell them to stop sending me nasty emails and phone calls. Good gravy … it's a hobby !!!!

Jim
—
To start, what a gentleman. I would've been much angrier. Jim: The Canadian in me feels compelled to apologize for the trolls. Nobody should have to put up with this type of abuse – for any reason, but especially not for a choice they've made in the hobby. Period.
—
I know that I have strong opinions on what constitutes a "successful" layout and when I share that philosophy on this blog and elsewhere, I know that not everybody agrees with me. I consider debate in the hobby to be a positive thing – and I've enjoyed the discussions that my posts have generated, even when we haven't all seen eye to eye.
In three years of writing this blog, I've only ever had one person be a dunderhead. He's been banned from commenting here – and I'm pleased to see that whenever he raises his head over the parapet to snipe at others (on newsgroups, other blogs and so on), he's quickly and forcefully slapped.
With that one exception, the tone has always been civil and respectful. I'm grateful that I don't have be heavy handed about policing this blog. Thank you – all of you – for that.
I know trolls exist in the hobby – and that it's easy, with the pseudonyms and avatars of forums, to say things that we would never, ever say to another person's face. But I can't even begin to imagine what "right" somebody feels they have to directly attack another person for their approach to railway modelling.
The idea of emailing somebody to tell them they're "doing it wrong" offends me.

The idea of phoning someone to deliver such abuse? Words fail me.
I have posted to the Model Railroader Facebook page to let the editorial team know that such abuse makes me angry, and that it should not be tolerated. I've encouraged MR to address this in a future issue – I think it's an important editorial for editor Neil Besougloff to write. It's disrespectful to hobbyists, and bad for the hobby as a whole.
What a great way to encourage people to never share their work with others.

What a great way to encourage people to abandon railway modelling in favour of a different hobby.

To those who engaged in this behaviour, I have three words:

"Well done, idiots."
If you agree with me, I encourage you to get in touch with Model Railroader and let the editorial team know how you feel.
And you blog, or run a forum, or otherwise engage with the hobby community online, I encourage you to share information about this incident.
Together, maybe we can publicly shame the trolls and encourage them to go back under their bridges.