Late last month, I ran into Gord Ross at one of the local hobby shops. Gord's a regular reader and after talking with him a while, I invited him to visit. Well, we had that visit on Thursday.
I also invited my friend Andy Malette to join us, because I know Gord has put his toe into the water in S scale, and Andy knows just about anything one could want to know about building a layout in 1:64. Andy was able to provide Gord with lots of information about sources for equipment and other stuff one needs for a satisfying S scale layout.
We started with lunch at Harbord House, then headed to the layout room to run a freight extra to Port Rowan behind 10-wheeler number 1532:
The layout ran well and the work took about two hours to complete. The three of us had a great time.
Gord is considering an S scale layout for a small space, and noted that having a chance to run my layout answered several questions for him about whether a modest layout can be entertaining. I'm convinced they can be, as I've written about this on this blog and on my Achievable Layouts blog. But it's one thing to read something – quite another to experience it for oneself.
—
We discussed the advantage of choosing industries that support a variety of car types with specific spotting rules. I think this is particularly important for smaller layouts.
For example, a furniture factory might require the same layout space as a grain elevator, but it would require more switching.
That's because the furniture factory could receive inbound loads of lumber, fabric, leather, glass, hardware, adhesives, finishes, solvents, and the occasional delivery of machinery. Finished furniture could fill outbound cars. What's more, these inbound and outbound carloads would likely need to be spotted in specific order along the factory's siding – and some cars spotted at the factory might not be ready for pick-up.
By contrast, a grain elevator might receive several cars for loading, but if they're all going to be loaded with the same commodity, spot order doesn't matter.
If we assume six cars will be switched at our furniture factory, that could require a fair amount of back-and-forth shuttling to lift cars that are outbound, then sort inbound cars and cars that are staying put into correct spot order. A grain elevator – even one with a 12-car capacity – would require much less switching.
For an example of a prototype for an Achievable Layout with not one, but two furniture factories on it, have a look at the CNR Southampton Sub. Click on the image for more:
(Lance Mindheim has written a fair bit about the philosophy of choosing industries for their spotting locations, as opposed to their car capacity. Here's a good example on Lance's blog, using an article by Jim Lincoln on a corn syrup facility as his example.)
—
Even a team track – the easiest and most space efficient industry to model – can offer this sort of play value. In fact, team tracks account for the majority of the spotting locations on my layout. I make this work by dividing the team track into several spotting locations and then assigning specific spots to specific customers. For example, Potter Motors in Port Rowan receives the occasional flat car load of tractors.
This car must be spotted at the very end of the team track, so that Potter can set up a ramp to drive the tractors off the end of the flat car. On my layout, I've designated four spots on the Port Rowan team track and labelled them "T1-T4", counting from the wheel stops. Then, on the waybill for the flat car with tractor load, I have noted it must be spotted in "T1".
—
Gord and I also talked about small, prototype examples. My go-to example is the CNR Waterloo Sub to Galt, Ontario. I've given this example to several friends and know at least one person who is building a version of it in HO. I've also written it up on my Achievable Layouts blog: Click on the image, below, to read more about this subdivision.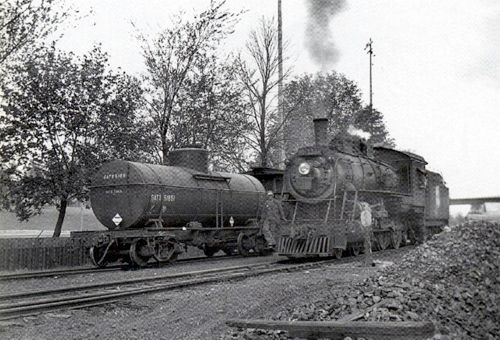 —
Andy, Gord: Great to see you both and I'm looking forward to more operating sessions!