My friend Stephen Gardiner and I attended the 2016 Toronto RPM over the weekend, and he brought along his HO scale model of CNR D-1, C-1 and C-2 to display. The model is a real eye-catcher: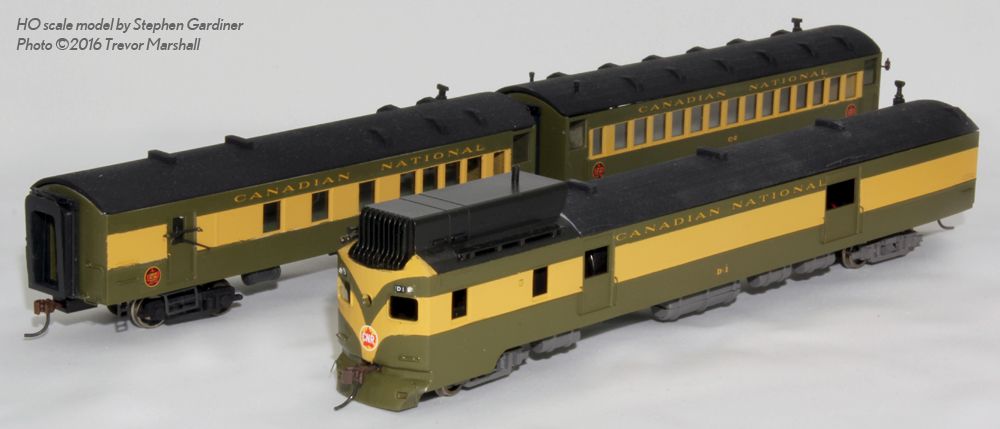 The prototype train set never received a fancy name like "The Flying Yankee" so it's a real alphabet soup to describe. But it was the CNR's failed attempt to modernize its aging fleet of diesel-electric motor cars. The D-1 was a bust and rather than pursue this project, the timing was right for the railway to instead invest heavily into Budd RDCs.
But no matter – it's a unique piece of equipment and a real conversation piece, as I hope the photo suggests.
To build his model, Stephen drew up the D-1 and its trailers and had it 3D Printed at Shapeways. As regular readers will recall, he's working on converting his design into 1:64 so I can print a copy to run on the S Scale Workshop exhibition layout. Reworking the model for S required more than simply scaling up the HO plans: The larger scale required the body to be split in two in order to fit within the Shapeways print envelope, and there were other changes to be made. But Stephen informed me on the weekend that the S Scale version is ready, and yesterday I placed my order with Shapeways for the body and the roof:
I already have a frame, courtesy of my friend Ryan Mendell:

(Click on the image to read about the frame)
Meantime, I've ordered a trailing truck for D-1 (plus trucks for the two trailers) from American Models. While I wait for the D-1 body to arrive, I'll work up a list of detail parts to acquire from companies such as BTS. And then of course there are the two trailers. I can detail D-1 while Stephen converts his 1:87 trailers to S scale.
(And on a technical note, I've now added a category link to the blog for this project: CNR D-1 will filter all the postings related to it.)
Thanks for your work on this Stephen – it's going to be an awesome addition to the Workshop layout!