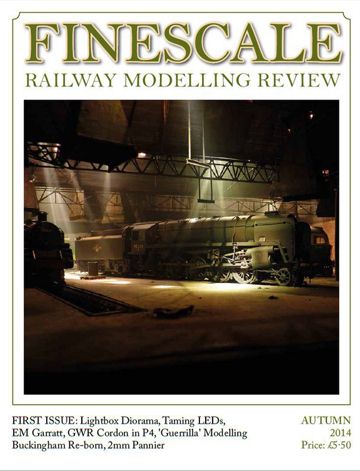 (Even as North American hobby magazines struggle, a new magazine debuts in the UK. Click on the cover to visit the FRMR website)
Once again, our fellow modellers in the UK show me how it's done – this time, in the publishing world, as Greystar Publications launches a brand new quarterly publication. As the name implies, this new effort focuses on finescale modelling – in other words, the UK equivalent of the philosophy that drives Proto:48, Proto:87, the RPM movement and other thoughtful modelling endeavours on this side of the pond.
Already, the Finescale Railway Modelling Review is being praised by those who care about these things (such as this post on the Albion Yard blog), with high hopes expressed for publisher/editor Bob Barlow and co-editor Tim Shackleton.
What's remarkable is that the Finescale Railway Modelling Review is not the only UK magazine to focus on expert-level railway modelling – not by a long shot:
Greystar also publishes the Narrow Gauge and Industrial Railway Modelling Review – a quarterly which, as the name implies, explores the smaller stuff in exquisite detail. (I must admit I've never subscribed, mostly because my narrow gauge adventures have been more freelanced in nature. That said, I've just taken a one-year subscription to kick the narrow gauge tires.)

In addition, there's my go-to magazine for inspiration – Model Railway Journal, published eight times per year. (It's interesting to note that both Bob Barlow and Tim Shackleton have sat in the editor's chair at MRJ.)
And those are just the ones of which I'm aware.
I find it interesting that the United Kingdom (2011 population: less than 64 million) can support at least two magazines devoted to finescale modelling, plus numerous other magazines that focus on niche interests (e.g.: Miniature Railway magazine, about commercial and garden railways built to ride-on sizes)… while here in North America (2014 US population: more than 318 million; 2014 Canada population: more than 35 million), finescale publications such as Mainline Modeler and Prototype Modeler are a distant memory. We've also lost the hard copy editions of the three terrific annuals produced by Westlake Publishing (although I do note that there's a 2014 Narrow Gauge Annual available as a digital download). And Prototype Railroad Modeling from Speedwitch Media arrived with great promise in 2005 but lasted just two issues (although publisher Ted Culotta recently published a new book after several years, so the publisher is still active at least).
What's still available? Well, the Railway Prototype Cyclopedia is a valuable resource at 28 volumes and growing. It does tend to focus on documenting prototype equipment to aid modellers, rather than features on models and model railways.
Other, smaller publications are digital only, and many of them struggle to support themselves. Even Railroad Model Craftsman, which picked up the RPM crowd when Mainline Modeler ceased publication, ran into well-publicized troubles earlier this year. (Fortunately, RMC was saved by white knight Kevin EuDaly and will continue to publish.)
But despite having a combined population of more than 353 million – more than five times the population of the UK – we seem unable, in North America, to float even a single magazine aimed at the expert modeller.
Yes, railways are more relevant to daily life in the UK than here in North America, so it's safe to assume that a greater percentage of the UK's general population is an enthusiast at some level or another. But even if the North American hobby, as a percentage of our total population, is just 20% that of the UK, the number of hobbyists would still be the same – and yet periodicals aimed at the top 5% of hobbyists (plus those who aspire to that level of excellence) seem doomed to sink.
And those of us looking for an antidote to the consumption-driven hobby of massive layouts and collections done to a "good enough" standard – an approach endorsed by most of the North American magazines – will continue to focus our attention and our magazine-buying dollars on that Green and Pleasant Land…
I've placed a one-year subscription to Finescale Railway Modelling Review: I look forward to my first issue.